An aerial census by helicopter in January 2014 has revealed that Disappointment Island in New Zealand's Auckland Islands supported 452 breeding pairs of Gibson's Antipodean Albatrosses Diomedea antipodensis gibsoni.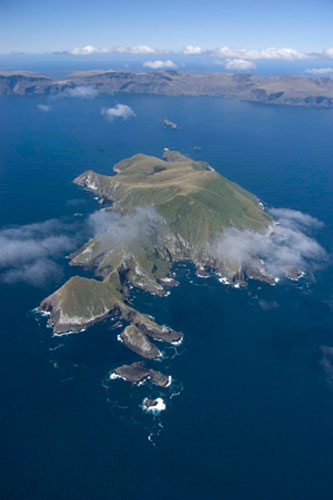 Disappointment Island, photograph by Barry Baker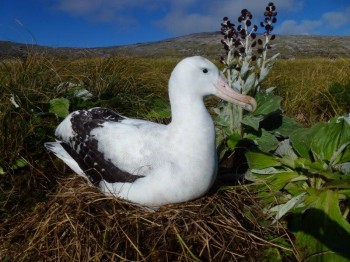 Gibson's Antipodean Albatross on the Auckland Islands
Photograph by Colin O'Donnell
The photographic survey was undertaken on behalf of the New Zealand Department of Conservation by Latitude 42, an environmental consultancy based in Tasmania.
Click here to read of helicopter-bourne aerial censuses of another species of great albatross, the Wandering D. exulans of South Africa's uninhabited Prince Edward Island.
Reference:
Baker, G.B. & Jensz, K. 2014. Gibson's albatross at Disappointment Island - analysis of aerial photographs. Report prepared for Department of Conservation. [Kettering]: Latitude 42 Environmental Consultants Pty Ltd. 7 pp.
John Cooper, ACAP Information Officer, 11 June 2014