Bronwyn Currie of the Namibian Ministry of Fisheries and Marine Resources reports a banded White-chinned Petrel Procellaria aequinoctialis killed by a longliner on 14 May this year at 22° 51'S; 13° 04'E off Walvis Bay, Namibia. The bird carried a French metal band DZ 25706 along with black-on-yellow colour band 212. The bird was banded on 29 November 2013 as a breeding adult with a chick on Île Haute, Golfe de Morbihan, Îles Kerguelen.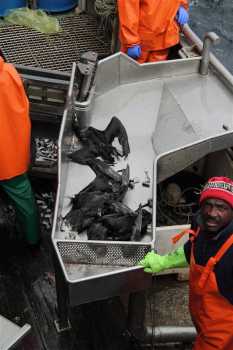 White-chinned Petrels fall victim to a Namibian longliner
Photograph by John Paterson
An earlier record is of banded White-chinned Petrel DZ 21644 killed in a hake trawl on 11 August 2008 in Namibian waters at 28° 21'S; 14° 33'E. Then fisheries observer onboard kept the head and the banded leg for identification purposes showing that the bird was banded as a chick on 15 March 2007 on Île de la Possession, Îles Crozet.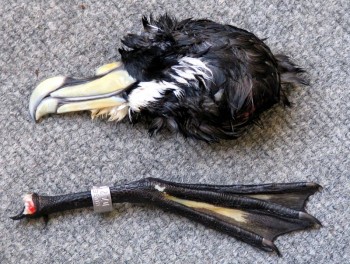 DZ 21644
Click here to access earlier reports in ACAP Latest News of fisheries-induced mortality of ACAP-listed seabirds, including of banded individuals, in Namibian waters.
With thanks to Kolette Grobler, Jean-Paul Roux, Franck Theron and Henri Weimerskirch for information.
Selected Literature:
Péron, C., Delord, K., Phillips, R.A., Charbonnier, Y., Marteau, C., Louzao, M. & Weimerskirch, H. 2010. Seasonal variation in oceanographic habitat and behaviour of White-chinned Petrels Procellaria aequinoctialis from Kerguelen Island. Marine Ecology Progress Series 416: 267-284.

John Cooper, ACAP Information Officer, 06 June 2014