ACAP has recently produced two posters it its Conservation Guideline Series that explain how to remove fishing hooks from live albatrosses and petrels.
The posters are now available for downloading on this website. An A3 version is suitable for wall display, while a two-page A4 version can be laminated back-to-back and kept at the ready with fishing equipment – along with the illustrated items (pliers, knife, etc.) required to remove longline and other hooks from live birds harmlessly.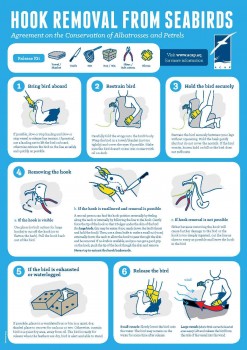 The A3 poster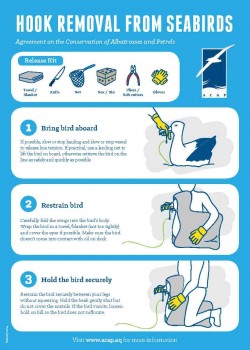 The two-page A4 poster
The new guidelines follow on from three others previously produced: on eradication in 2009, on biosecurity in 2011, and on census methods in 2013 (click here). A fifth conservation guideline document, on diseases, is in production.
It is intended that printed versions of the hook removal guideline posters will be made available at the next meeting of ACAP's Advisory Committee (AC8) and of two of its working groups, due to be held in Punta del Este, Uruguay this September (click here).
A similar hook removal poster and guidelines has been produced by the New Zealand-based Southern Seabird Solutions Trust, with a separate poster produced especially for anglers.
John Cooper, ACAP Information Officer, 19 March 2014