The normal at-sea distribution of the Critically Endangered Waved Albatross Phoebastria irrorata takes birds southward from the equatorial Galapagos Islands to the continental waters of southern Ecuador and Peru.
On 9 January 2004 Keiner Berrocal Chacón accompanied his father fishing when they encountered a Waved Albatross at sea in the Gulf of Nicoya "about 15 miles" from Cabo Blanco, Costa Rica at roughly 9.5°N (click here).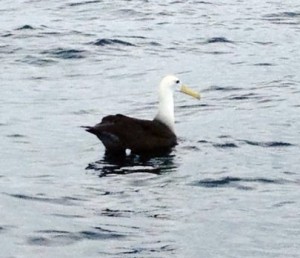 The Costa Rican Waved Albatross
Photograph by Keiner Berrocal
The first record of the Waved Albatross (and of an albatross of any species) for Costa Rica was of single bird seen flying close to Montagné Islet, Isla del Coco (Cocos Island) on 7 May 1993, but without physical evidence such as a photograph. Cocos Island, a national park, World Heritage Site and Ramsar Wetland of International Importance, lies 550 km offshore at 5.5°N so the recent record is the first for Costa Rica's continental waters, and the first for the country with photographic confirmation.
The species has been very occasionally recorded north of the Equator off the coasts of Columbia (one specimen) and Panama. The latest Costa Rican record thus appears to be the most northerly for the species.
Selected Literature:
Acevedo-Gutiérrez, A. 1994. First records of three nesting birds and species at Isla del Coco, Costa Rica. Revista de Biología Tropical 42: 762.
Tickell, W.L.N., 1996. Galapagos Albatrosses at sea. Sea Swallow 45: 83-85.
John Cooper, ACAP Information Officer, 17 February 2014