ACAP Latest News has received an update of French activities to rid its sub-Antarctic island of Kerguelen of introduced mammals from Fabrice Le Bouard of Terres Australes et Antarctiques Françaises (TAAF). These activities, which follow earlier efforts to eradicate European Rabbits Oryctolagus cuniculus, are expected to contribute to a recovery of the island group's natural vegetation - which should help the its burrowing seabirds, including the ACAP-listed White-chinned Procellaria aequinoctialis and Grey P. cinerea Petrels.
Domestic Sheep Ovis aries
"There are still sheep on Ile Longue. The last count in March [2014] is about 150 males left. There are no females and so no reproduction. We'll maybe try to shoot some of them next summer or winter to accelerate their natural death." Domestic Sheep were first introduced to Kerguelen in 1909.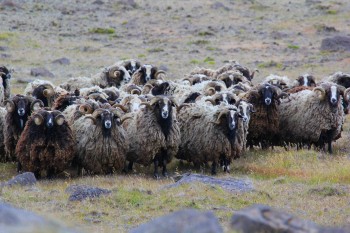 Shaggy sheep face the camera on Ile Longue, photograph by Thomas Biteau
Mouflon Ovis orientalis musimon
Following a shooting campaign on Ile Haute in the Golfe du Morbihan a single male Mouflon remains since winter 2012 when four of the five last animals were removed. "We'll maybe try to shoot the last one next summer or winter if it's still alive." Mouflon (from which domestic sheep have descended) were first introduced to Kerguelen in 1957.
A Mouflon on Ile Haute, Kerguelen, photograph by Thomas Biteau
Reindeer Rangifer tarandus
The programme RENKER (Reindeer on Kerguelen Islands: distribution, dynamics and impacts on ecosystems) is operated by the Institut polaire Paul Emil Victor (IPEV) in collaboration with the National Nature Reserve and TAAF. The project aims to estimate the size of the Reindeer population, originally introduced in 1956, as well as its distribution on the mainland.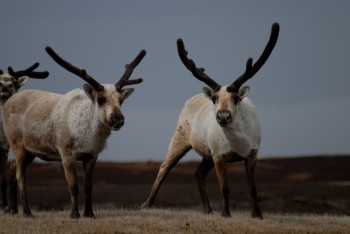 Reindeer on the Courbet Peninsula, photograph by Fabrice le Bouard
"Our project aims to assess ecosystem effects of reindeer on Kerguelen in order to evaluate different management policies. We will 1) estimate the distribution and habitat use of reindeer on Ile Kerguelen using a combination of faeces counts and helicopter transects, 2) collect simple demographic indices such as calves/females ratio and age of carcasses to compare this predator-free population to e.g. South Georgia, 3) assess if these indices can be validated using marked individuals, 4) estimate plant composition and biomass and relate it to reindeer habitat use and presence of other herbivores using an approach developed in subarctic-alpine ecosystems, 5) establish exclosures in different habitats to assess short-term responses of vegetation to reindeer grazing."
The next summer will be the last field season. Fabrice reports to ACAP that depending on the results of the study a decision will be made whether or not to proceed to a Reindeer eradication exercise when the island's current (2011-2015) management plan is revised.
Click here for an earlier ACAP Latest News report of France's ongoing efforts to rid its sub-Antarctic islands of introduced mammals.
With thanks to Fabrice Le Bouard (Technicien de recherche des inventaires et suivis ornithologiques et mammalogiques de la réserve naturelle des Terres australes Françaises) for information and photographs.
Selected Literature:
Chapuis, J.-L., Boussès, P. & Barnaud, G. 1994. Alien mammals, impact and management in the French subantarctic islands. Biological Conservation 64: 97-104.
Headland, R.K. 2012. History of exotic terrestrial mammals in Antarctic regions. Polar Record 48: 123-144.
Kaeuffer, R., Bonenfant, C., Chapuis, J.-L. & Devillard, S. 2010. Dynamics of an introduced population of Mouflon Ovis aries on the sub-Antarctic archipelago of Kerguelen. Ecography 33: 435-442.
TAAF 2010. Plan de gestion 2011 - 2015 Réserve naturelle des Terres australes françaises. Saint Pierre, La Réunion: Terres australes et antarctiques françaises. 35 pp.
John Cooper, ACAP Information Officer, 16 May 2014