The Hawaii Audubon Society established the Freeman Seabird Preserve at the southern tip of Black Point, O'ahu, Hawai'i in 2007 to protect its breeding Wedge-tailed Shearwaters or 'Ua'u kani Puffinus pacificus (click here).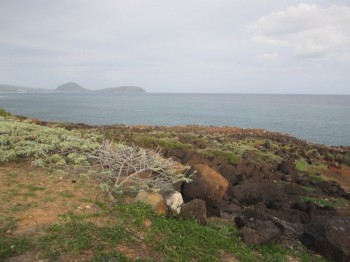 Freeman Seabird Preserve looking out to sea
Photograph by David Hyrenbach
Ongoing monitoring of the shearwaters in the reserve has shown the last breeding season to be a record one as David Hyrenbach (Hawai'i Pacific University) reports recently in 'Elepaio, newsletter of the Hawaii Audubon Society.
"The yearly July 14 colony-wide census yielded 176 nests, substantially higher than previous counts in 2009 (106), 2010 (78) and 2011 (123). This record incubation nest count was followed by the highest post-hatching count of 162 nests in September 14, underscoring the increase in the number of active nests at the colony."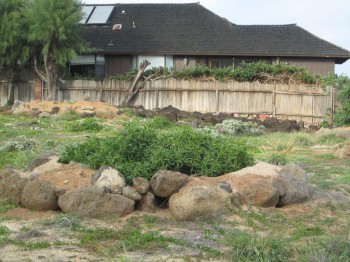 Wedge-tailed Shearwater burrows within the reserve. Photograph by David Hyrenbach
"Overall, 2012 was a year of very high chick productivity at the reserve, with the monitoring data revealing 92.2% and 90.3% hatching and fledging success, respectively. There was no evidence of predation, from either the monitoring of nests via cameras or visual checks."
Bait stations for rats have been in place since 2008 and attempts have been made by Pacific Rim Conservation to live trap domestic cats Felis catus in the reserve. These and out-of-season efforts to control alien plants should allow the colony to prosper into the future –although nocturnal visits by cats remain a concern.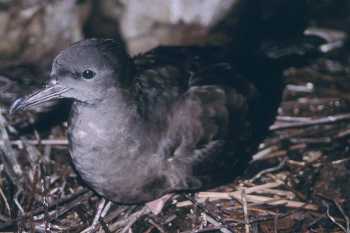 Wedge-tailed Shearwater. Photograph by Alan Burger
With thanks to David Hyrenbach for information and photographs.
Selected References:
Hyrenbach, K.D. 2011. Tale of two years: monitoring Wedge-tailed Shearwaters at Freeman Seabird Preserve in Black Point, O'ahu. 'Elepaio 71(3): 17-20.
Hyrenbach, K.D. 2012. 2011: a mixed year at the Freeman Seabird Preserve. 'Elepaio 72(2): 13-14.
Hyrenbach, K.D. & Johnson, W. 2013. 2012: record breeding shearwater count at the Freeman Seabird Preserve. 'Elepaio 73(2): 14-15.
Young, L., VanderWerf, E.A. & Lohr, M.E. 2012. Freeman Seabird Preserve predator control. 'Elepaio 72(1): 6.
John Cooper, ACAP Information Officer, 03 April 2013