Like many other petrels, the Wedge-tailed Shearwater Puffinus pacificus is impacted by introduced mammalian predators (i.e. rats, cats) and by human development and encroachment of their colonies (i.e. trampling of burrows, light pollution).
At Black Point, a small Wedge-tailed Shearwater colony persists in a residential neighbourhood on the south shore of O'ahu, Hawaii.  As the result of a donation of coastal land in 2007 the Hawaii Audubon Society established the Freeman Seabird Preserve at the southern tip of Black Point.
The site supports between 78-106 active nests, according to colony-wide counts in July of 2009 and 2010.  In 2009, the overall reproductive success was 67.7%, hatching success 71.0% and fledging success 95.4%.  In 2010, the overall reproductive success was 72.6%, hatching success 87.8% and fledging success 82.7%.  Median hatching date was significantly later in 2010, compared to 2009.  These monitoring results suggest that the breeding phenology and chick provisioning of the Freeman Preserve Wedge-tailed Shearwaters were influenced by inter-annual variability in the marine environment.
These results underscore the importance of understanding varying regional oceanographic conditions when assessing seabird responses to local habitat restoration and predator-control efforts.  Furthermore, this monitoring programme highlights the value of the Freeman Seabird Preserve for educating students and the public about wedgie ecology and conservation.
[adapted from a paper by David Hyrenbach]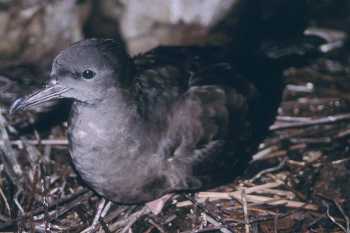 Reference:
Hyrenbach, K.D. 2011.  Tale of two years: monitoring Wedge-tailed Shearwaters at Freeman Seabird Preserve in Black Point, O'ahu.  'Elepaio 71:17-20.
John Cooper, ACAP Information Officer, 27 February 2012