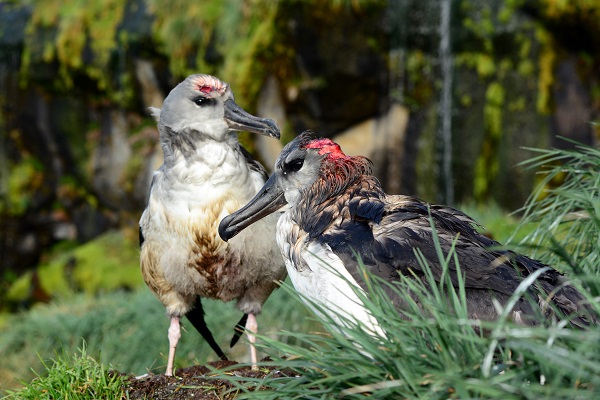 Scalped! Globally Endangered Grey-headed Albatrosses Thalassarche chrysostoma attacked at night by House Mice on Marion Island, photograph by Ben Dilley
The first World Albatross Day will be celebrated on 19 June 2020. Following discussion, and consideration of the main threats facing albatrosses identified in a recent review in the scientific journal Biological Conservation, the theme of eradicating introduced pests at breeding sites of albatrosses, petrels and shearwaters has been chosen to highlight a continuing, but addressable, problem facing ACAP-listed species, many of which are threatened with extinction unless actions are taken. Although not all 13 Parties to the Agreement support breeding populations of albatrosses, they are all range states, so those without such populations (including some cooperating non-Party range states) will have an interest in conservation efforts conducted at the breeding sites of species that regularly visit their territorial waters and Exclusive Economic Zones - where they will be susceptible to interactions with domestic fishing vessels.
In 2020 attempts are being made to eradicate introduced House Mice Mus musculus on the UK's Gough Island in the South Atlantic and on the USA's Midway Atoll in the North Pacific. At both localities mice have been attacking and killing albatrosses, as has been regularly reported in ACAP Latest News. Planning and field work is continuing in 2020 towards eradicating mice on South Africa's Marion Island and on New Zealand's Auckland Island (along with its feral cats and pigs). These, and other pest eradication projects at breeding sites of ACAP-listed species, will be highlighted in the build up to World Albatross Day on 19 June 2020.
Reference:
Dias, M.P., Martin, R., Pearmain, E.J., Burfield, A.J., Small, C., Phillips, R.A., Yates, O., Lascelles, B., Garcia Borboroglu, P. & Croxall, J.P. 2019. Threats to seabirds: a global assessment. Biological Conservation doi.org/10.1016/j.biocon.2019.06.033.