Ahmed Taibi (Department of Agronomy, Aboubekr Belkaid University of Tlemcen, Algeria) and colleagues write in the journal Advances in Environmental Biology on the Scopoli's Shearwaters Calonectris diomedea that breed on rat-free Rachgoun Island in the Mediterranean.
The paper's abstract follows:
Rachgoun Island is one of the largest islands of Algeria with more than 26 hectares. It houses one of the largest colonies of Cory's shearwater Calonectris diomedea in Algeria. A shipping of four days (21 to 25 June 2013) followed by several periodic visits were organized on the island and have as objectives to study the reproduction and distribution of this rare species. The reproductive success is high because of the absence of the rats on the island. 30 nests were studied by reason of one egg per nest. The nests are dug in the ground with an average opening of 26.9 cm and a total length equal to 95.3 cm. The egg is deposited to an average of 67.3 cm from the opening. Nests are placed at a distance of 26.1 m from the sea and at an altitude of 20.9 m. Eggs whitish color have the greatest length of 67 mm and the largest width of 46.3 mm. The average of volume and weight of eggs are respectively 68.58 cm3 and 62.2 g.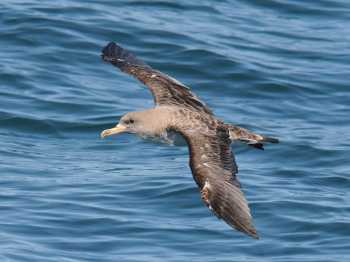 Cory's/Scopoli's Shearwater, photograph by John Graham
Reference:
Taibi, A., Ghermaoui, M., & Oubaziz, B. 2014. First study of the reproduction of Cory's shearwater Calonectris diomedea (Procellariidae, Aves) at the Rachgoun Island (Beni Saf, Algeria). Advances in Environmental Biology 8: 15-20.
John Cooper, ACAP Information Officer, 05 August 2014