Maud Island/Te Hoiere (310 ha) in the Marlborough Sounds of New Zealand's South Island is a scientific reserve administered by the Department of Conservation (DOC) as a predator-free island sanctuary for native species – since its introduced Stoats Mustela erminea were eradicated in the 1990s. Maud Island is closed to public access without a permit because of its importance as a native wildlife sanctuary.
Over the years chicks of three species of burrowing procellariiform seabirds (Fluttering Shearwater Puffinus gavia, Common Diving Petrel Pelecanoides urinatrix and Fairy Prion Pachyptila turtur) have been successfully translocated to the island, hitherto thought to be free of rodents.
News from DOC last week is that mice have been found on the island following searches with trained rodent-detection dogs, surviving in the presence of rodent traps and poison bait stations. It is not known how the mice arrived, given the biosecurity protocols in place, but tightening up of these is now being considered. "The mouse infestation may have started with just one pregnant female", perhaps from an illegal landing.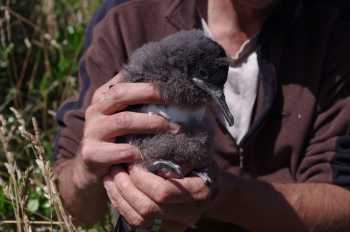 A Fluttering Shearwater chick, photograph courtesy of Colin Miskelly
Given that the House Mouse Mus musculus is known to attack and kill the chicks of several species of burrowing petrels on Gough Island in the South Atlantic (click here), there must now be concern over the fate of Maud Island's colonies of burrowing petrels. However, help is on the way.
"We are keen to eradicate the mice and restore Maud Island's predator-free status as soon as possible" said DOC Sounds Conservation Services Manager Roy Grose.
"To be sure of success in eliminating all the mice we need to hold off an eradication operation until next winter when food for mice would be scarce and they would be more likely to eat the poison baits. We will do all we can in the meantime to limit the impacts of the mice on endangered species". Also at risk are native invertebrates, reptiles and amphibians.
Selected References:
Bell, M., Bell, B.D. & Bell, E.A. 2005. Translocation of Fluttering Shearwater (Puffinus gavia) chicks to create a new colony. Notornis 52: 11-15.
Cuthbert, R.J., Louw, H., Lurling, J., Parker, G., Rexer-Huber, K., Sommer, E., Visser, P. & Ryan, P.G. 2013. Low burrow occupancy and breeding success of burrowing petrels at Gough Island: a consequence of mouse predation. Bird Conservation International doi.org/10.1017/S0959270912000494.
Gaze, P. & Cash, B. 2008. A history of wildlife translocations in the Marlborough Sounds. DOC Occasional Publication No. 72. Wellington: Department of Conservation. 23 pp.
Miskelly, C.M. & Taylor, G.A. 2004. Establishment of a colony of Common Diving Petrels (Pelecanoides urinatrix) by chick transfers and acoustic attraction. Emu 104: 205-211.
Miskelly, C.M., Taylor, G.A., Gummer, H. & Williams, R. 2009. Translocations of eight species of burrow-nesting seabirds (genera Pterodroma, Pelecanoides, Pachyptila and Puffinus: Family Procellariidae). Biological Conservation 142: 1965-1980.
Wanless, R.M., Ratcliffe, N., Angel, A., Bowie, B.C., Cita, K., Hilton, G.M., Kritzinger, P., Ryan, P.G. & Slabber, M.[J.] 2012. Predation of Atlantic Petrel chicks by house mice on Gough Island. Animal Conservation 15: 472-479.
John Cooper, ACAP Information Officer, 15 November 2013