The efforts to remove Brown Rats Rattus norvegicus from the inhabited islands of St. Agnes and Gugh (connected by a tombolo) in the United Kingdom's Isles of Scilly have commenced. Rat removal in the Scilly Isles will help protect small populations of Manx Shearwaters Puffinus puffinus and of European Storm Petrels Hydrobates pelagicus that have been reported breeding on both islands (click here).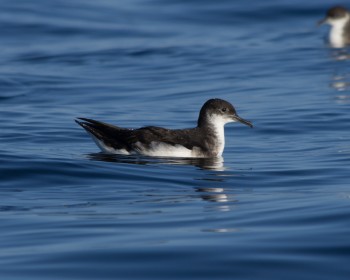 Manx Shearwater, photographed by Nathan Fletcher
The rat-removal phase of the Isles of Scilly Seabird Recovery Project is being undertaken by Elizabeth (Biz) Bell and colleagues of New Zealand's Wildlife Management International Ltd (WMIL), which previously undertook the feasibility study into rat removal from the Isles of Scilly.
ACAP Latest News has been kindly supplied with the eradication's first two progress report by Project Manager Jaclyn Pearson of the Royal Society for the Protection of Birds (RSPB) and Biz Bell.
The eradication team arrived on the island this month and has commenced laying out the grid for ground baiting utilizing both commercial lockable and tube bait stations, the latter previously manufactured out of 70-cm lengths of plastic drainage tubing by the RSPB.
"The completed bait stations will then be fixed in place across the island, marked by a bamboo cane and flag, with the location recorded by GPS to enable follow-up checks." Nearly 650 canes with attendent bait stations have been placed out so far according to the progress reports. Currently all stations (excluding in the houses and gardens on St. Agnes) have been established. Baiting is expected to commence on 6 November.
"Rat trapping has continued at three sites; seven rats have been caught to date. Samples for resistance and DNA testing are being collected from all rats (when suitably fresh)."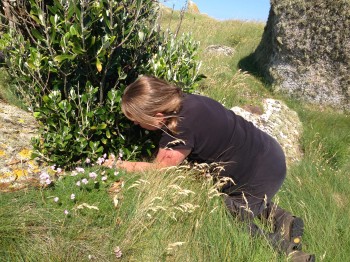 Biz Bell searchs for rat sign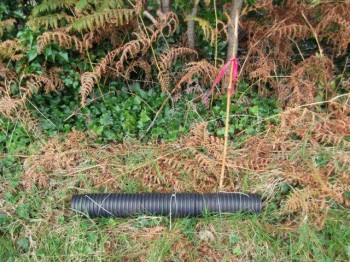 A flagged bait station awaits its bait
Photographs by Wildlife Management International Ltd
You can learn more about the project by following its newsletter The Shearwater, of which the first two numbers have been produced this year (click here).
The Isles of Scilly consist of five inhabited islands and numerous other small rocky islets off Cornwall in the south of England. The project is being run by a partnership of organisations: RSPB, Isles of Scilly Wildlife Trust, Natural England, Duchy of Cornwall and the Isles of Scilly Area of Outstanding Natural Beauty.
For the European Storm Petrel, the Isles of Scilly represent the sole breeding site in England, with 1398 pairs. The islands are also one of only two breeding sites for the Manx Shearwater in Englandwith 171 pairs; the other being the island of Lundy in the Bristol Channel.
With thanks to Biz Bell, Nathan Fletcher, Jaclyn Pearson and Rebecca Steggles for information and photographs.
Selected References:
Bell, E. 2011. Isles of Scilly Seabird Recovery Project: Summary Report: Improving rodent control on uninhabited islands, assessment of the feasibility of rat removal across the Isles of Scilly Archipelago and feasibility of rat removal from St Agnes and Gugh. Blenheim: Wildlife Management International Ltd. 40 pp.
Brooke, M. de L. 1990. The Manx Shearwater. London: T & AD Poyser. 246 pp.
Lock, L., Brown, A., Webber, J., Mawer, D. & St. Pierre, P. 2009. Isles of Scilly Seabird Conservation Strategy 2009-2013.
Mitchell, P.I., Newton, S.F., Ratcliffe, N. & Dunn, T.E. 2004. Seabird Populations of Britain and Ireland. Results of the Seabird 2000 Census (1998-2002). London: Christopher Helm. 511 pp.
John Cooper, ACAP Information Officer, 31 October 2013