A while back, ACAP Latest News reported on plans to build a second predator-proof fence on the Hawaiian island of Kauai as part of the Kīlauea Point National Wildlife Refuge (click here). The fence (728 m long to enclose a three-hectare area) aims to protect Laysan Albatrosses or mōlī Phoebastria immutabilis and Newell's Shearwaters or 'a'o Puffinus newelli from introduced predators such as feral domestic dogs Canis familiaris and cats Felis catus, rats Rattus spp., House Mice Mus musculus and Small Indian Mongoose Herpestes auropunctatus.
The Draft Environmental Assessment (DEA) for the Nihoku Ecosystem Restoration Project (NERP) is now available (click here).
"This project comes at a particularly important time for Kaua'i's seabirds which are now potentially being preyed on by mongooses, a new introduced predator in Kaua'i's ecosystem. The DEA concludes that the NERP would have primarily positive impacts on the biological resources of the Refuge and no significant impacts would be anticipated. The full DEA is now available for public review and comment up until 31 October 2013 (click here). Have your say!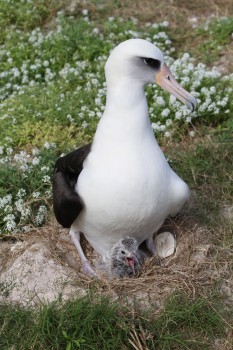 A Laysan Albatross broods its hatchling, photographed by Pete Leary
Click here to read how predator-proof fences are helping procellariiform seabirds around the World.
Selected References:
Anden Consulting 2013. Draft Environmental Assessment Nihoku Ecosystem Restoration Project Kīlauea Point National Wildlife Refuge Kaua'i, Hawai'i September 2013. Honolulu: Anden Consulting. 169 pp.
Young, L.C., VanderWerf, E.A., Lohr, M.T., Miller, C.J., Titmus, A.J., Peters, D. & Wilson, L. 2013. Multi-species predator eradication within a predator-proof fence at Ka'ena Point, Hawai'i. Biological Invasions. DOI 10.1007/s10530-013-0479-y.
Young, L.C., VanderWerf, E.A., Mitchell, C., Yuen, E., Miller, C.J., Smith, D.G. & Swenson, C. 2012. The use of Predator Proof Fencing as a Management Tool in the Hawaiian Islands: a Case Study of Ka`ena Point Natural Area Reserve. Technical Report No. 180. Honolulu: The Hawai`i-Pacific Islands Cooperative Ecosystem Studies Unit & Pacific Cooperative Studies Unit, University of Hawai`i. 82 pp.
John Cooper, ACAP Information Officer, 03 October 2013