Claude Joiris (Laboratory for Polar Ecology, Ramillies, Belgium) and colleagues write in the journal Polar Biology on seabirds, including ACAP-listed albatrosses and petrels, encountered along return transects between South Africa and Antarctica in summer.
The paper's abstract follows:
"The first aim of our long-term study on the at-sea distribution of the upper trophic levels—seabirds and marine mammals—in polar marine ecosystems is to identify the main factors affecting their distribution: water masses and pack ice, fronts and ice edge as defined on the basis of water temperature, salinity and ice overage. In this study, seabird at-sea distribution was determined in the south-eastern Atlantic Ocean in summer along four return transects between Cape Town, South Africa, and Queen Maud Land, Antarctica: two on board icebreaking MS Ivan Papanin and two on board icebreaking RV Polarstern between December 2007 and January 2012. During a total of 1,930 half-an-hour transect counts devoted to seabird recording, 69,000 individuals were encountered, belonging to 57 species (mean: 36 individuals per count, all species and expeditions pooled). In comparison, the adjacent Weddell Sea shows a lower seabird biodiversity (30 species and 150 individuals per count) than in the area covered by this study. European Arctic seas reflect an intermediate biodiversity, with 30 species and 60 individuals per count; the major difference is observed in closed pack ice, almost empty in the Arctic but showing a very high biomass in the Antarctic. On the other hand, following the same route in different years allowed to compare results: density and abundance were found to be homogenous and reproducible between years for some species, while very important patchiness was detected for others, causing large heterogeneities and differences between expeditions."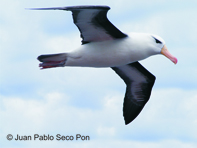 Black-browed Albatross at sea, photographed by Juan Pablo Seco Pon
Reference:
Joiris, C.R., Humphries, G.R.W. & De Broyer, A. 2013. Seabirds encountered along return transects between South Africa and Antarctica in summer in relation to hydrological features. Polar Biology DOI 10.1007/s00300-013-1382-9.
John Cooper, ACAP Information Officer, 03 September 2013