Russell Wynn (National Oceanography Centre, Southampton, UK) reports on recent activities by the Project Shearwater team that has been studying ACAP-listed and Critically Endangered Balearic Shearwaters Puffinus mauretanicus at Spain's Mediterranean Balearic Islands since 2010. The following information has been extracted from his detailed account.
"In spring 2012 and 2013, we undertook further expeditions to the Balearic Islands to continue and expand this research. As with previous years, the focus was on the large Balearic Shearwater cave colony at Sa Cella, Mallorca, but work also continued at La Mola, Menorca, home to a colony of Yelkouan-type 'Menorcan' Shearwaters."
Research activities this year have included geolocator tracking with 40 GLS devices deployed on fledgling Balearic Shearwaters at Sa Cella in June to try to identify where young birds go in their first three years prior to breeding. So far, one bird has been photographed off the UK's Isles of Scilly. Time-Depth Recorders have also been deployed at Sa Cella, together with GLS and GPS tags. Initial results indicate that Balearic Shearwaters can dive to a depth of 20 m.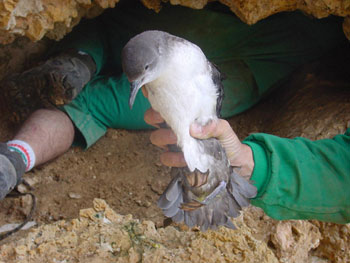 A Balearic Shearwater in the hand, photographed by Daniel Oro
Stable isotope analysis is being undertaken to provide information on the shearwaters' diets, allowing a study of the potential feeding of birds on fisheries discards, and their vulnerability to bycatch in fishing gear in different areas. Infrared cameras have been deployed providing "probably the first ever images of Balearic Shearwaters mating at the nest, together with a range of other fascinating behaviours in this totally dark environment."
Work has continued on the Yelkouan-type shearwaters on Menorca with GLS deployments:
"[t]he initial results are surprising, and are revealing significant differences in migration strategy between birds from Mallorca and Menorca." For an earlier article in ACAP Latest News on these enigmatic birds click here.
In early 2011, the Balearic Island Government co-ordinated a rat eradication programme on Sa Dragonera, an island off north-west Mallorca (click here). Wynne reports: "[t]his programme appears to have been successful, with no confirmed rat sightings in the intervening two years. In order to assess the impact on breeding Balearic Shearwaters, a census of the island was established in spring 2013. A series of census plots were [sic] identified and the numbers of occupied burrows established through visual confirmation or tape playback."
Click here for the full well-illustrated report of Project Shearwater's activities in 2013.
Earlier reports of Project Shearwater are available on-line:
John Cooper, ACAP Information Officer, 1 September 2013