BirdLife Malta has announced that the Malta-Gozo Channel has been confirmed as Malta's first Marine Important Bird Area (mIBA) in recognition of its international importance for three threatened seabird species.
Birds from Malta's two main breeding populations of the Vulnerable Yelkouan Shearwater Puffinus yelkouan and Scopoli's Shearwater Calonectris diomedea at Rdum tal-Madonna in Malta, and Ta' Cenc in Gozo, make use of the channel, congregating on the water in large numbers before returning to their nearby cliff-side nest sites to take their turn incubating their eggs or feeding their young chicks.
Malta's first EU LIFE project, the Yelkouan Shearwater Project (2006-2010), made the resources available to pursue the intensive studies required to collect the amount of rigorous scientific data needed for the true importance of the site to be assessed.
The designation of the 123-ha site follows the assessment of a proposal and data submitted by BirdLife Malta in 2011 against standard, internationally recognised criteria established by BirdLife International's IBA Programme, a network of more than 10 000 sites considered as the minimum necessary to ensure the survival of the species concerned across their ranges.
This success is something researchers from the ongoing LIFE+ Malta Seabird Project hope to build on.
"This new project has expanded to include two more species, the Scopoli's Shearwater and the European Storm Petrel Hydrobates pelagicus. We are now in the second year of fieldwork and have already achieved some firsts in seabird research, including the first successful radio-tracking of storm petrels in Europe."
The Malta Seabird Project aims to identify Marine IBAs for the three study species in areas at sea away from the coast, which is where these birds spend most of their lives.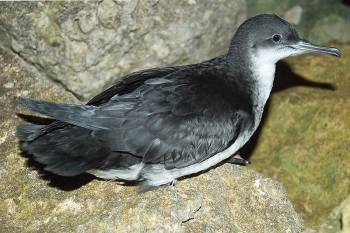 A Yelkouan Shearwater comes ashore in Malta, photographed by Matthew Borg Cardona
The Yelkouan Shearwater Project was a partnership initiative lead by BirdLife Malta involving four government authorities (Heritage Malta, Malta Maritime Authority, Malta Centre for Fisheries Sciences and the Armed Forces of Malta) and three conservation organisations (BirdLife Malta, SPEA – BirdLife Portugal and RSPB – BirdLife UK). It was 50% funded by the EU LIFE Programme and received additional financial contributions from HSBC and MEPA.
The EU LIFE+ Malta Seabird Project aims to identify important areas for seabirds in Maltese waters and designate Special Protection Areas (SPAs) at sea under EU nature conservation legislation. The project is managed by BirdLife Malta with support from the Ministry for Tourism, Culture and Environment, and BirdLife partners in the UK (RSPB) and Portugal (SPEA).
Click here for the full press release by BirdLife Malta.
Click here to access a video clip on the new mIBA.
John Cooper, ACAP Information Officer, 31 August 2013