The XXXIII Scientific Committee on Antarctic Research (SCAR) Biennial Meetings and Open Science Conference will be held in Auckland, New Zealand over 28 August – 3 September 2014. See the meetings' programme and First Circular.
The Council of Managers of National Antarctic Programs (COMNAP) Symposium and Business Meetings will also be held in Auckland followed by its annual meeting in Christchurch. Meetings will be hosted and sponsored by Antarctica New Zealand and the Royal Society of New Zealand.
"The SCAR Open Science Conference will focus on Global Messages from Antarctica and how the changes that we are currently seeing in Antarctica will affect the rest of the World, and will include a joint SCAR/COMNAP Conservation Symposium that will help develop a Conservation Strategy for Antarctica. A draft list of scientific sessions developed by the International Scientific Organizing Committee is open for review and comment at the Conference website."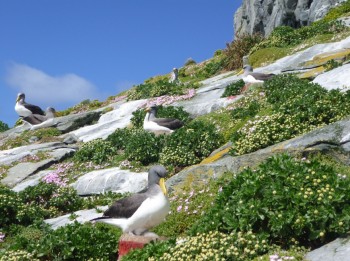 Chatham Albatrosses on New Zealand's Pyramid, photographed by Lorna Deppe
Plenary sessions will include the keynote Weyprecht Lecture, the Antarctic Science Lecture, the 2014 Martha T. Muse Prize winner, and a thematic lecture on Global Messages from Antarctica.
John Cooper, ACAP Information Officer, 26 August 2013