The Seventh Meeting of the Albatross and Petrel Agreement's Advisory Committee, to be held in La Rochelle this month, will hear of progress with ACAP-funded projects for the 2010-2011 and 2012 rounds (see AC7 Inf 01).
2010-2011 FUNDING ROUND
Eight projects were supported during the 2010 - 2011 call for applications. Short progress reports are available for those marked with asterisks.
ACAP 2010-01 At-sea distribution of the WAAL [Wandering Albatross] and overlap with fishing fleets of the central Peruvian coast*
J.A. Shigueto & J.C. Mangel, Pro Delphinus, Peru
ACAP 2010-03 Evaluating alternative approaches to predicting at-sea distributions and fisheries overlaps of ACAP species in Ecological Risk Assessments
(R.A. Phillips, British Antarctic Survey
ACAP 2010-04 Concluding six years of research on seabird bycatch reduction through modified discharge management regimes: Is batch discharge better than ad-hoc discharge from trawl vessels?* (see reference listed below)
J. Pierre, Ministry of Research, Science and Technology, New Zealand
ACAP 2010-09 Internal Consultation Process for the Consolidation of the National Plan of Acton for the Conservation of Seabirds in Peru*
E. Goya, Instituto del Mar del Perú & A. Gonzáles Araujo, Dirección General de Extracción y Procesamiento Pesquero, Ministerio de la Producción
ACAP 2010-10 Defining high-risk areas in the Argentinean Continental Shelf: to which extent albatrosses and petrels interact with the Argentine high-seas commercial trawl fleet?*
S. Copello & J.P. Seco Pon. CONICET-UNMDP, Argentina
ACAP 2010-11 Improving data collection on seabird incidental mortality associated with fisheries in South American observer programmes: Part II – year 2011
Argentina, Brazil, Chile, Ecuador, Peru, Uruguay
ACAP 2010-13 Final on-shore development of 'hook-pod' to reduce seabird bycatch in pelagic longline fisheries* (a progress report is at SBWG4 Doc 10 Rev 1.)
B. Sullivan, BirdLife International
ACAP 2010-15 Estimates of the Waved Albatross mortality in artisanal fisheries during the critical period of incubation*
J. Samaniego, GSP BirdLife - Aves & Conservación, Ecuador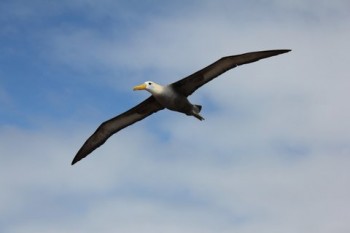 Waved Albatross. Photograph by Rone LeValley
2012 FUNDING ROUND
Five projects were supported to the level of AUD 97 600 following evaluation by the Grants Sub-committee and the Advisory Committee in the 2012 funding round, out of nine applications received requesting a total of AUD 156 850. Proposal summaries for the projects below can be found in AC7 Inf 01.
ACAP 12-03 Seabird mitigation effectiveness of the Smart Tuna Hook in Tuna longline fishing
B. Baker, Southern Seabird Solutions Trust,G. Robertson, Australian Antarctic Division & Hans Jusseit, OceanSmart
ACAP 12-04 Population demography and at-sea distribution of Sooty Albatross at the Prince Edward Islands
P.G. Ryan, FitzPatrick Institute, University of Cape Town, R.J.M. Crawford & A.B. Makhado, Branch: Oceans and Coasts, Department of Environmental Affairs, South Africa
ACAP 12-06 NGO action in Santa Rosa, Ecuador to reduce bycatch of Waved Albatross (and other seabirds) in artisanal longline fisheries
J. Hardesty Norris & G. Wallace, American Bird Conservancy & Oli Yates & Esteban Frere BirdLife International, J. Samaniego, (Aves y Conservación & A. Baquero, Equilibro Azul
ACAP 12-07 Tracking Juvenile Tristan Albatrosses at Gough Island
R. Wanless, BirdLife South Africa, P.G. Ryan, Percy FitzPatrick Institute, University of Cape Town, South Africa & R. Cuthbert, Royal Society for the Protection of Birds, UK
ACAP 12-09 Assessing the impact of demersal trawl fisheries on seabirds in Uruguay
A. Domingo, Laboratorio de Recursos Pelágicos, Dirección Nacional de Recursos Acuáticos, S. Jiménez, M. Abreu & R. Forselledo, Laboratorio de Recursos Pelágicos, Dirección Nacional de Recursos Acuáticos and Proyecto Albatros y Petreles – Uruguay (NGO CICMAR).
For a description of the funds allocation process followed in 2012 see AC7 Doc 16.
Reference:
Pierre, J.P. Abraham, E.R., Richard, Y., Cleal, J. &. Middleton, D.A.J. 2012. Controlling trawler waste discharge to reduce seabird mortality. Fisheries Research 131-133: 30-38.
John Cooper, ACAP Information Officer, 01 May 2013