Breeding by a small shearwater was first recorded on Spain's Balearic island of Menorca in 1991. The birds were then thought to belong to what is now the ACAP-listed and Critically Endangered Balearic Shearwater Puffinus mauretanicus, a species endemic to the Balearic Islands, and which breeds on Mallorca (click here) and elsewhere within the archipelago.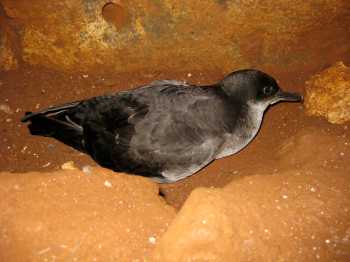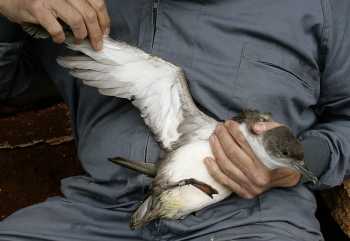 Two views of a Menorcan shearwater showing its Yelkouan-like dark upperparts and white underparts
Photographs by Miguel McMinn
Miguel McMinn reports to ACAP of the Menorcan birds he first handled in 2000: "… measurements suggested that they were smaller than Balearic, but a bit larger than Yelkouan, very similar to the birds found in France. At sea these birds would be identified as Yelkouan. Most birds (70%) showed a pure Yelkouan plumage. The rest were darker, but none as dark as the pure Balearic."
Further studies of the Menorcan shearwaters have shown them to differ morphologically and in terms of their calls from "true" Balearic Shearwaters. The birds have been shown to be smaller, whiter underneath and more black than brown above and in general appearance more closely resemble Yelkouan Shearwaters P. yelkouan, a Vulnerable (but not ACAP-listed) species that breeds farther to the east in the Mediterranean.
However, genetic work has shown the sympatric breeding presence of genotypes (mtDNA cyt. b) from both Balearic and Yelkouan Shearwaters. The Menorcan phenotype is not correlated with genotype (mtDNA cyt b) although all the breeding birds of Menorca show a similar Yelkouan plumage phenotype. Calls of the Menorcan birds are intermediate between the two species.
Hybridisation has been considered as a threat to the Critically Endangered Balearic Shearwater, but the species' main threats are fisheries bycatch at sea and introduced predators on breeding islands.
Click here to read of a 2010 expedition to the colony of La Mola de Maó, a limestone massif on the north-west of Menorca, to attach tracking devices to its enigmatic shearwaters.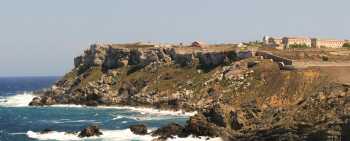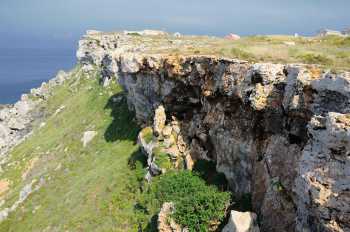 The Mola de Maó breeding locality on Menorca. On the cliff top can be seen the remains of the 19th century Fortress of Isabel II. Shearwaters nest in caves within the upper limestone cliffs
Photographs by Miguel McMinn
Click here to access the ACAP Species Assessment for the Balearic Shearwater.
Selected References:
Aguilar, J.S. & S. Pons, S. 1991. Nidificación de la Pardela Pichoneta Balear Puffinus yelkouan y del Paiño Hydrobates pelagicus en Menorca. Bolletí de la Societat d'Història Natural de les Balears 34: 61-64.
Curé, C., Aubin, T., Mathevon, N. 2010. Intra-sex vocal interactions in two hybridizing seabird species (Puffinus sp.). Behavioral Ecology and Sociobiology 64: 1823-1837.
Curé, C., N. Mathevon, N., Mundry, R. & Aubin, T. 2012. Acoustic cues used for species recognition can differ between sexes and sibling species: evidence in shearwaters. Animal Behaviour 84: 239-250.
Genovart, M., Juste, J., Contreras-Díaz, H. & D. Oro, D. 2012. Genetic and phenotypic differentiation between the Critically Endangered Balearic Shearwater and neighboring colonies of its sibling species. Journal of Heredity 103: 330-341.
Genovart, M., Juste, J. & Oro, D. 2005. Two sibling species sympatrically breeding: a new conservation concern for the critically endangered Balearic Shearwater. Conservation Genetics 6: 601-606.
Genovart, M., Oro, D., Juste, J. & Bertorelle, G. 2007. What genetics tell us about the conservation of the Critically Endangered Balearic Shearwater? Biological Conservation 137: 283–293.
With thanks to Miguel McMinn, Skua Gabinet d'Estudis Ambientals SLP, Mallorca, for information and photographs.
John Cooper, ACAP Information Officer, 26 February 2013