"The South Georgia Heritage Trust (SGHT) is undertaking the world's largest rodent eradication on the South Atlantic island of South Georgia [Islas Georgias del Sur*].  Commencing with aerial baiting of about 12,800 hectares in 2011, the second phase will commence in February 2013 and targets rodents across 58,000 ha.  A further 36,000 ha will be covered in 2014.  Results from the 2011 baited area are already evident, with the endemic South Georgia pintail duck producing larger broods of ducklings than previously observed in the area.
"Macquarie Island Pest Eradication Projectmanager Keith Springer will join the South Georgia Heritage Trust baiting team in February and assist in establishing bait depots, bait laying and subsequent helicopter baiting operations.
"The 2013 work is expected to be completed by May, and will be based in tent camps that are moved to follow baiting progress. The SGHT will be using its own three BO105 helicopters for establishing bait depots and bait spreading.  South Georgia's reindeer are expected to be eradicated during January 2013, prior to commencement of baiting operations."
(text taken from No. 12 of the Macquarie Dispatch, Newsletter of the Macquarie Island Pest Eradication Project).
The latest issue (No. 13 of January 2013) of Project News of the South Georgia Habitat Restoration Project gives further news of Phase 2 of the massive operation to remove all of the island's Norwegian or Brown Rats Rattus norvegicus and House Mice Mus musculus: 18 months of planning, one ship, a 25-strong field team, three helicopters, 700 drums of fuel, 300 tonnes of bait, eight tonnes of food, three container loads of equipment and 900 helicopter off-loading flights planned.  Gasp!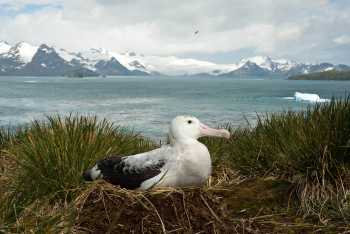 A Wandering Albatross on its nest on Prion Island, with South Georgia (Islas Georgias del Sur)* as a majestic backdrop
Photograph by Anton Woolfaardt
All previous issues of Project News are available on line (click here)
Click here to access the various planning documents for Phase 2 of the eradication exercise, including the seventh draft of the Operational Plan.
A team of Sami herders from Norway is to round up into corrals and then cull the island's 3000 Reindeer Rangifer tarandus (click here).  The cull is planned to be spread over two summers, with the estimated 1000-strong Busen herd being removed this month.  Reports on the Reindeer eradication plans are available on-line.
John Cooper, ACAP Information Officer, 27 January 2013
*A dispute exists between the Governments of Argentina and the United Kingdom of Great Britain and Northern Ireland concerning sovereignty over the Falkland Islands (Islas Malvinas), South Georgia and the South Sandwich Islands (Islas Georgias del Sur y Islas Sandwich del Sur) and the surrounding maritime areas.