The last of five cohorts of Short-tailed Albatross Phoebastria albatrus chicks transferred from Torishima to Mukojima in Japan's Ogasawara (Bonin) Islands have now fledged.  Fourteen of the 15 hand-fed fledglings fledged over the period 15-25 May, one chick having died in March.  The birds were colour-banded Red Y60-Y74.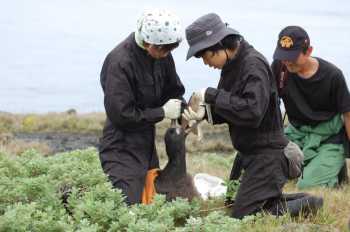 A 2012 translocated chick gets one its last hand-fed squid meals on 10 May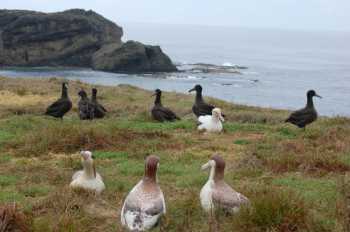 Six chicks close to fledging on 8 May 2012.  The four models in the foreground are decoys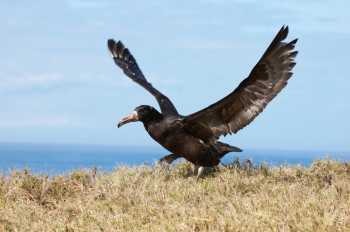 A 2102 chick flaps its wings in readiness to fledge, 8 May 2012
Above three photographs courtesy of the Yamashina Institute for Ornithology
Six of the fledglings are carrying satellite transmitters to ascertain their movements at sea.  The devices were fitted by Kiyoaki Ozaki (Yamashina Institute for Ornithology) and Rob Suryan (Oregon State University) on 6 May.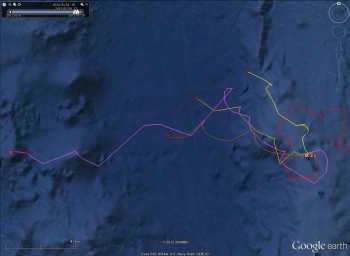 "
First week's satellite tracks for six fledglings of the 2012 cohort
Map courtesy of  the Ministry of the Environment Japan, US Fish & Wildlife Service, Oregon State University and the Yamashina Institute for Ornithology
Now that the translocation exercise is complete, with a total of 70 chicks transferred over five years, the next phase will be to continue to monitor the Mukojima site, visiting several times a season and also keeping in touch via cameras that send their pictures via satellite 'phone.  It is hoped that breeding will start at the translocation site on Mukojima as early as next year, since a translocated bird (Red Y01) from the first cohort has regularly been seen displaying on site with a naturally-reared bird from Torishima or (as it is not banded) from the Senkaku Islands (click here).
Search this web site on "Mukojima" to read all the earlier ACAP Latest News stories on the translocation exercise.
The project has been undertaken by Japan's Yamashina Institute for Ornithology and is supported by the Ministry of the Environment Japan, US Fish & Wildlife Service, The North Pacific Research Board, The Mitsui Co., Ltd. Environment Fund, The Suntory Fund for Bird Conservation and Oregon State University in the USA.
With thanks to Kiyoaki Ozaki, Division of Avian Conservation (Bird Migration Research Center), Yamashina Institute for Ornithology for information and photographs.
John Cooper, ACAP Information Officer, 3 June 2012