Continuing the occasional series of articles on the role albatrosses and petrels have played in the arts, this time we look at music.
Fleetwood Mac is a rock band that was formed in 1967 and is still going strong 45 years later, although there have many changes to its membership and some of its original musicians are no longer alive.  The drummer Mick Fleetwood is the only original member of the band still going.
In 1969 the band released a guitar instrumental named Albatross composed by then band leader and guitarist Peter Green that has been described as one of the greatest instrumental tracks of all time and as a beautiful, haunting and thought-invoking piece of music.  Albatross reached Number One in the UK and Europe.
"The composition and its arrangement suggest a relaxing sea setting, with cymbals imitating the sound of waves (Mick Fleetwood played his drum kit using timpani mallets to give a muted sound) and a dreamy solo from Green's guitar" (click here).   It has been suggested that Peter Green was influenced by Coleridge's poem The Rime of the Ancient Mariner but there seems to be no clear evidence for this one way or the other.
Listen to Fleetwood Mac playing Albatross in a 1970 studio recording and see if after all these years it can still touch your soul.
You can compare their recording with a 2004 cover.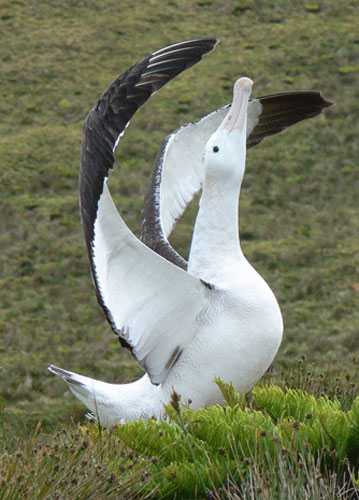 A Tristan Albatross displays on Gough Island
Photograph by Andrea Angel/Ross Wanless
John Cooper, ACAP Information Officer, 8 June 2102