News is in on four ongoing eradication efforts to remove introduced mammals from islands in the Southern Ocean
Antipodes Island
The Million Dollar Mouse Campaign to eradicate House Mice from New Zealand's Antipodes Island is approaching halfway with NZ$ 469 476 raised to date.  Donations are still required to meet the target to enable the attempt to go ahead next year.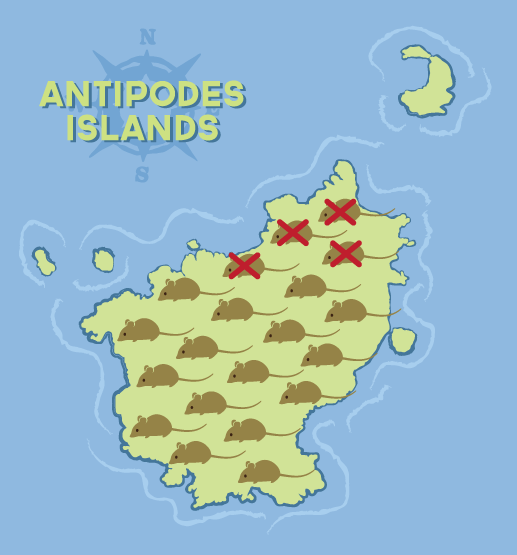 Nine mice are now Xed out, eleven to go!
Macquarie Island
So far no rabbits have been reported on Australia Macquarie Island since November following the winter poison bait drop last year - according to the latest blog entry by Lauren Keller and Kelly Smith - who are hunters with the second hunting team to be based on the island.  No signs of rats or mice have been seen since the bait drop last year, so this eradication effort remains well on track.
To keep in touch with MIPEP (the Macquarie Island Pest Eradication Project) follow "This Week at Macquarie" on the Australian Antarctic Division web site.  Last week's report gives a link to a magazine article by Mary-Lou Considine in Ecos entitled "Macquarie Island is back in bloom" that shows how the islands' vegetation is recovering markedly post rabbit grazing.
Kerguelen
Reports from correspondence are that there may be now only one Mouflon (a type of wild sheep) left on Ile Haute in the Golfe du Morbihan of Kerguelen Island following an on-going eradication effort (read earlier news of active eradication efforts at the French sub-Antarctic islands).  However, it is still too early to call this eradication effort a success.
South Georgia (Islas Georgias del Sur)*
A report on the feasibility of herding and corralling as techniques to eradicate the introduced Reindeer of South Georgia (Islas Georgias del Sur)* is now available on-line.
The plan is to use traditional Sámi methods of herding and corralling Reindeer, with shooting by experienced marksmen of deer that are inaccessible.  This system will enable compliance with strict animal welfare regulations and will be overseen by a veterinary officer.  It will also allow the hygienic butchering of carcasses for human consumption.  Removal of the Busen herd is planned to commence in January next year, with the Barff herd to be targeted the following year.  The total number of Reindeer on the island is estimated to be 3000-3500.  Eradication will be undertaken by Sámi reindeer herders under the supervision of staff from the Norwegian Nature Inspectorate.  "Their intention is to gradually herd and then corral the animals onto an area where they will be humanely culled before the carcasses are butchered, hung and then frozen offshore on a supporting vessel."  It is intended that the Reindeer meat will be fit for human consumption prepared to European Union standards and will be made available to visiting tourist vessels (click here).
Following Phase One of the Habitat Restoration Project which undertook poison bait drops over the Thatcher, Green and Mercer Peninsulas last year there still remain no signs of Norwegian Rats following on-going monitoring.  In advance of Phase 2 of the project set for March-May 2013 further surveys are being undertaken in remote areas which will be targeted for rat eradication.  Survey teams have also been looking at populations of birds deemed to be at risk of non-target mortality. Aerial baiting operations in 2013 are expected to commence in the vicinity of the Nunez Peninsula and proceed in a clockwise direction to Cumberland Bay.
Areas targeted (coloured red) for rat eradication on South Georgia (Islas Georgias del Sur)* in 2013.  Areas coloured green were treated in 2011.
All these planned or ongoing eradication efforts will lead to improvements in the conservation status of ACAP-listed albatrosses and petrels that breed within the Southern Ocean.
With thanks to Axel Falguier and Marc Lebouvier for information.
John Cooper, ACAP Information Officer 14 June 2012
*A dispute exists between the Governments of Argentina and the United Kingdom of Great Britain and Northern Ireland concerning sovereignty over the Falkland Islands (Islas Malvinas), South Georgia and the South Sandwich Islands (Islas Georgias del Sur y Islas Sandwich del Sur) and the surrounding maritime areas.