The Smart Tuna Hook has been developed for use in tuna longline fisheries to prevent seabirds (and turtles) from accessing baits.  The system uses a modified tuna longline hook which accepts a specially designed shield that disarms the hook once it has been baited.  The steel shield creates a three-dimensional barrier encompassing the hook's point and barb, which prevents ingestion by both seabirds and turtles.  The shield is snapped onto the baited hook by a clip that has a corrodible alloy link.  The link causes the shield to be released within 15-20 minutes from the hook after immersion in salt water.  The shield then sinks to the sea floor where it corrodes within 12 months, leaving no pollution or toxic residue.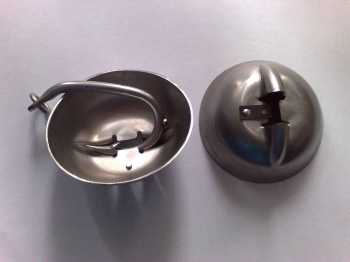 The Smart Tuna Hook works to reduce seabird bycatch in two ways:
1.  It adds weight to each branch line directly at the hook, thus increasing sink rate and reducing the availability of baited hooks to seabirds.  The mild steel shield weighs approximately 38 g and once attached increases the sink rate of the baited hook to 0.6 m/s.  Unlike weighted swivels or fixed weights, however, the weight is not present at the time of hauling because the shield has been released during the soak time.  This addresses the safety concerns of fishers that weights applied to branch lines can injure crew members in 'bite-off' or break-off situations during gear retrieval.
2.  The shield protects the hook from injuring or being ingested by seabirds in the event that diving birds manage to seize a baited hook during deployment.
Successful pilot studies of the Smart Tuna Hook have so far been undertaken in the Coral Sea, Australia and off Kaikoura, New Zealand. They indicated that its use is a significant deterrent to seabirds attacking baits.  A larger trial directly comparing the Smart Hook and conventional pelagic hooks in fishing operations under experimental conditions is now planned before the device is put into commercial production.  Funding and in-kind support towards this trial has so far been gained from Oceansmart and the Southern Seabird Solutions Trust.
Click here to view a video clip on the Smart Tuna Hook (winner of an Australian New Inventors and People's Choice Award) being deployed at sea.  You can find out more about Smart Hooks here and also on Facebook.
With thanks to Barry Baker for information and the photograph.
John Cooper, ACAP Information Officer, 29 June 2012