A Northern Giant Petrel Macronectes halli was found on Port Elizabeth's Maitland Beach on South Africa's east coast in mid-June in a weak and dehydrated state.  It was collected and taken to the nearby South African Marine Rescue and Rehabilitation Centre (SAMREC) situated in the Cape Recife Nature Reserve to be rehabilitated.  The bird was released at sea after two weeks under care from the Spirit of Toft (Rescue 6), Port Elizabeth's deep-sea rescue boat operated by the National Sea Rescue Institute (NSRI). The release took place 2.5 miles due west of Cape Recife in three-metre swells on 30 June 2012.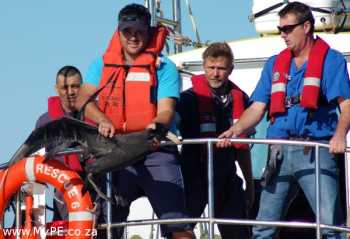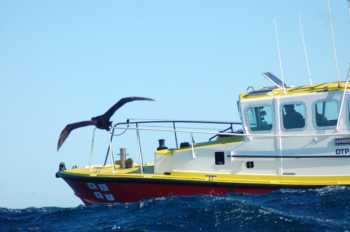 Photographs by Alan Straton
Jared Harding, the then animal manager from SAMREC, was aboard the rescue boat to release the bird.  The giant petrel, a juvenile from its uniform brown appearance, spent about 15 minutes sitting on the water before stretching its wings and making small flights.  While in captivity it was fed on chicken necks as it refused to eat the pilchards SAMREC feeds to captive African Penguins Spheniscus demersus.  Click here to view more photos of the release.
See also http://mype.co.za/new/2012/07/giant-petrel-off-pe-coast/.
***********************
On 3 July 2012 a whale-watching tour operated by Dyer Island Cruises retrieved an injured white-phase Southern Giant Petrel Macronectes giganteus from the vicinity of Dyer Island on South Africa's south coast.  Marine biologist Michelle Wcisel with the Dyer Island Conservation Trust and DICT operations manager Nikki Chapman first treated the bird and then sent it to the SANCCOB (Southern African Foundation for the Conservation of Coastal Birds) rehabilitation centre near Cape Town.  It has an injury that could possibly have been from a shark bite.  White-phase Southern Giant Petrels are rare in South African waters, making this a noteworthy distributional record.  Watch a video clip of the bird being boxed for transfer to SANCCOB's facility.
With thanks to Jared Harding for information.
John Cooper, ACAP Information Officer, 8 July 2012