It is hoped to carry a review of New Zealander Lance Richdale's biography by Neville Peat in ACAP Latest News in due course.  Meanwhile, here is the publisher's "blurb" to whet your appetite.
"The first biography of Lance Richdale, who achieved international fame as the father of Otago's albatross colony from 1936 and for his research on the behaviour of the Yellow-eyed Penguin - Time magazine dubbed him 'The Dr Kinsey of the penguin world' - and the sooty shearwater, or muttonbird.
Richdale grew up in Wanganui, took a tertiary course in agriculture in New South Wales, and returned to New Zealand to teach mainly in rural schools in the North Island for several years, eventually taking up a position with the Otago Education Board in 1928 as an inspiring itinerant agricultural instructor and nature study teacher.
Richdale never gave up his day job and incredibly in the weekends, holidays and evenings undertook major, meticulous and time-consuming research on penguins, albatrosses and several petrel species.  His study of the muttonbird was achieved during prolonged solo camps on tiny Whero Island in stormy Foveaux Strait, where the wind blew straight from Antarctica.  Neville Peat's biography searches the traces left by this shy and obsessed man for some answers to two questions: why? and what drove him?  Richdale's legacy is a nature tourism industry in Dunedin worth $100 million a year, and the longest-running seabird population study in the world."
Peat, Neville 2011.  Seabird Genius: The Story of L.E. Richdale, the Royal Albatross, and the Yellow-eyed Penguin.  Dunedin: Otago University Press.  288 pp.  ISBN-10: 1877578118.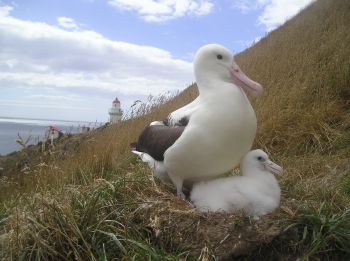 Lance Richdale would have been proud: the 500th Northern Royal Albatross chick at Taiaroa Head, Otago Peninsula
Photograph by Lyndon Perriman
Selected publications on procellariiform seabirds by Lance Richdale:
Richdale, L.E. 1938.  A Royal Albatross nesting on the Otago Peninsula, New Zealand.  Emu 38: 467-488.
Richdale, L.E. 1942.  Supplementary notes on the Royal Albatross.  Emu 41: 169-184.
Richdale, L.E. 1944.  The Sooty Shearwater in New Zealand.  The Condor 46: 257-263.
Richdale, L.E. 1945.  The nestling of the Sooty Shearwater.  The Condor 47: 45-62.
Richdale, L. E. 1949.  The pre-egg stage in Buller's Mollymawk.  Biological Monographs No. 2: 1-50.
Richdale, L.E. 1949.  Buller's Mollymawk: incubation data.  Bird-Banding 20: 127-141.
Richdale, L. E. 1950.  The pre-egg stage in the albatross family.  Biological Monographs No. 3: 1-91.
Richdale, L.E. 1952.  Post-egg period in albatrosses.  Biological Monographs No. 4: 1-166.
Richdale, L.E. 1954.  The starvation theory in albatrosses.  Auk 71: 239-252.
Richdale, L. E. 1954.  Duration of parental attentiveness in the Sooty Shearwater.  Ibis 96: 586-600.
Richdale, L. E. 1963.  Biology of the Sooty Shearwater Puffinus griseus.  Proceedings of the Zoological Society of London 141: 1-117.
Richdale, L.E. & Warham, J. 1973.  Survival, pair bond retention and nest-site tenacity in Buller's Mollymawk.  Ibis 115: 257-263.
John Cooper, ACAP Information Officer, 9 January 2012