Recent quantitative seabird risk assessment work has highlighted the high degree of potential risk that small vessel (inshore) bottom longline fisheries in New Zealand pose to a number of seabird species, including the ACAP-listed and Vulnerable Black or Westland Petrel Procellaria parkinsoni and the Flesh-footed Shearwater Puffinus carneipes.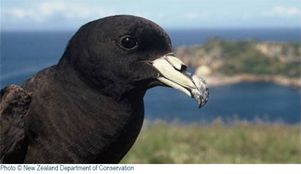 A suite of mitigation measures is now mandatory in these fisheries, including the use of bird-scaring lines, line weighting, night setting and restrictions on offal discharge during setting and hauling, but bycatch continues to remain a concern.
The Kellian line-setter is an underwater setting device developed by Dave Kellian, a fisher from Leigh, New Zealand.  It is a towed device, consisting of an adjustable stainless steel tube c.1.5 m in length with a threaded bar fixed to a lead ball at one end, and two rollers and snood and weight guides attached at the other end.  A paravane is fixed to the mid-section of the steel tube to assist in maintaining stability during towing.  A wire cable, attached to the end of the steel tube adjacent to the threaded tube and lead ball, is used to deploy the line-setter and determine setting depth.
To resolve a line-fouling issue identified with the prototype described above it is now planned to undertake tests of its hydrodynamic properties in a flume tank at the Australian Maritime College.  Test results will be used to develop an operational prototype suitable for further at-sea proof of concept and ongoing research into its ability to mitigate seabird bycatch in inshore bottom longline fisheries.  This additional development is being funded by the New Zealand Department of Conservation.
Click here to view a video clip of the Kellian device in action underwater and to access related reports.
Click here to access the 2004 New Zealand National Plan of Action - Seabirds.
For a related news item on activities to reduce seabird bycatch in New Zealand click here.
References:
Goad, D., Ramm, K. & Debski, I. 2011.  Development of Mitigation Strategies for Inshore Demersal Longline Fisheries in New Zealand: Progress Report.  Fourth Meeting of the Seabird Bycatch Working Group Guayaquil, Ecuador, 22 - 24 August 2011   SBWG4 Doc 46.
Goad, D., Temple, S. & Williamson, J. 2010.  MIT 2009/01 Development of Mitigation Strategies: Inshore Fisheries.  Draft Research Report Prepared by Vita Maris for the Department of Conservation.   62 pp.
With thanks to Barry Baker and Igor Debski for information.
John Cooper, ACAP Information Officer, 27 January 2011