Not all the information on albatrosses and petrels that comes ACAP's way is perhaps worthy of its own story in ACAP Latest News.  So from time to time I will run intriguing items of news together into a single story.  Today's comes from the North Pacific where I am currently visiting to attend the 38th Annual Meeting of the Pacific Seabird Group on Oahu, Hawaii, USA.
Laysan Albatross found in pick-up truck in Los Angeles
How did a live Laysan Albatross end up in the back of a pick-up truck in Los Angeles in California?  We will never really know but "[r]escuers suspect the bird stowed away on a cargo ship to hitch a trans-Pacific ride to Los Angeles, where it was spotted hitching a ride in a truck" although there seems to be no actual evidence of this  However, the story has a happy-enough ending as the bird was released at sea after being banded on 31 January off San Pedro by International Bird Rescue Center staff that had cared for it for four days (click here).  Also have a look at the release video.
"In 1979, a Laysan albatross was found wandering the streets of San Francisco, some of its feathers removed and its wings clipped.  The bird, nicknamed Munch, was nursed back to health, flown to Honolulu and released by the U.S. Coast Guard into a colony of its peers on Midway Island." (click here).
Laysan Albatrosses score birdies on golf courses on Kauai
On Kauai (one of the Hawaiian high islands) Laysan Albatrosses breed in the residential suburb of Princeville in private gardens and on golf courses (click here)
The day-to-day lives of these suburban birds (most of which are colour-banded) can be followed at My Albatross Diary by Cathy Granholm, a Princeville resident, with regular illustrated postings at roughly five-day intervals throughout the breeding season.  The birds are currently hatching their eggs and brooding small downy chicks.  Private-property owners are not allowed to move or harm a breeding Laysan Albatross or its egg or chick that takes up a nest site in their gardens: so otherwise immaculate lawns have to go unmowed close to nests until the chicks fledge.
Click here for an earlier story in ACAP Latest News on the golf-course albatrosses of Kauai.
Kure Atoll gets visited by a third Short-tailed Albatross this season
A female-female pair of Short-tailed Albatrosses P. albatrus has attempted breeding on Kure Atoll for the second year in a row; laying two eggs each time (click here).  As for the previous year both of the current season's eggs were thought to be infertile and although the birds are still present, both eggs have been lost. One egg was found broken outside the nest and the other was discovered buried within it.  Help might be on the way as the pair was visited on 25 January by a third Short-tail, as reported by the Kure Atoll Conservancy (click here).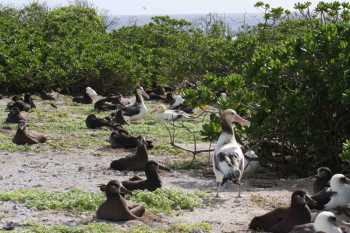 The visiting subadult Short-tailed Albatross on Kure Atoll with the female-female pair behind.
Photograph courtesy of Cynthia Vanderlip.
The new arrival was observed trying to display ("dance") with two different nesting Black-footed Albatrosses P. nigripes, but did not attempt to dance with the breeding pair of Short-tails as it walked within a few metres of them.  This seven-year old subadult bird, banded in 2005 on Torishima, is, however, of unknown sex.  Let's hope it is a male!
With thanks to Cynthia Vanderlip for information and the photograph.
John Cooper, ACAP Information Officer, 7 February 2012