For some time plans have been afoot to eradicate the introduced rats on Australia's Lord Howe Island (click here).  Such an action would help protect its populations of Flesh-footed Puffinus carneipes and Wedge-tailed P. pacificus Shearwaters, two species that have been identified as potential candidates for listing within the Albatross and Petrel Agreement.
It seems the presence of a resident 350-strong human population on Lord Howe has added complexity to the issue, but a recent joint announcement (click here) by the Federal and News South Wales Governments confirms that funding of AUD 4.5 million from each government has now been found for the eradication to go ahead.  It is currently intended to undertake the exercise in 2015 following further consultations with the islanders.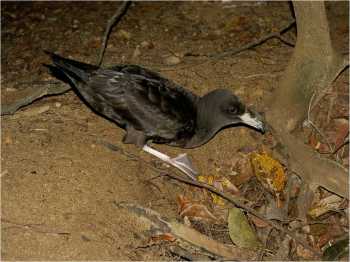 Flesh-footed Shearwater.  Photograph by Barry Baker
The Lord Howe Island Group, 14.55 km2 and approximately 700 kilometres north-east of Sydney in the South Pacific, has been a World Heritage Site since 1982.  Black Rats Rattus rattus first arrived on the island via a shipwreck in 1918.
See also http://www.couriermail.com.au/news/bombs-to-fight-the-killer-rats/story-e6frep26-1226426042276.
Click here to read about the plastic pollution threat facing Lord Howe's Flesh-footed Shearwaters.
With thanks to Ian Wilkinson, Leader: Invasive Species Science Group, Department of Agriculture and Food, Western Australia for information.
John Cooper, ACAP Information Officer, 27 July 2012