Amélie Boué (Ligue pour la Protection des Oiseaux, Rochefort sur Mer, France) and colleagues presented a paper at the Fifth Albatross and Petrel Conference in Wellington, New Zealand earlier this month on the recently ACAP-listed Balearic Shearwater Puffinus mauretanicus.  Click here to access the ACAP Species Assessment for this shearwater (and for the other 29 listed species).
The presentation's abstract follows:
"Balearic Shearwater (Puffinus mauretanicus) is classified as critically endangered by IUCN 2011 and an international Action Plan was published early 2011.  Although most of their breeding sites are protected, the population is still declining.  It is crucial to understand the interbreeding situation.  Current knowledge shows that the Balearic Shearwater population has different migration patterns depending on oceanic features that are not well known.  The European program Interreg FAME (Future of the Atlantic Marine Environment) developed between 2010 and 2012 tested several methods to assess the Balearic Shearwater distribution in the Atlantic area.  Coastal censuses as well as telemetric devices (PTT Argos, GLS and GPS) were used to determine at-sea distribution of the Balearic Shearwater.  Coastal censuses were conducted along the Atlantic coast from Spain to Ireland in order to detect coastal aggregations and migration bottlenecks.  Simultaneous counts were organized once a month based on a former Spain network.  As first results, some important aggregations sites have been identified (rafts and staging areas) along the French coast inside MPAs, but also in unprotected sites.  The 40 GLS and 5 PTT Argos deployed in 2011 allowed to identify important areas for Balearic shearwaters in the Atlantic area and along the Algerian coast in the Mediterranean Sea.  Marine IBAs will be identified following BirdLife International approach based on the compilation of data from several sources, including 1) recently improved statistical method to identify marine IBAs allowing analyses on a larger scale supported by telemetry and 2) coastal surveys."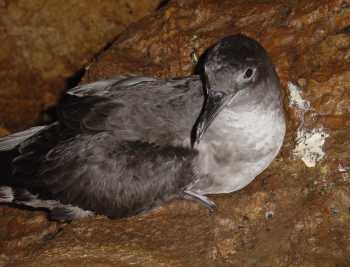 Balearic Shearwater.  Photograph by Daniel Oro
FAME is an international project which aims to help conserve the Atlantic marine environment.  The FAME Project brings together five countries (France, Ireland, Portugal, Spain and the United Kingdom) which have an interest, knowledge and expertise in the marine environment, ranging from seabird tracking and monitoring to mapping, data analysis and engagement with the offshore renewable energy and fisheries sectors.
Click here for a recent FAME report of Balaearic Shearwaters being found dead or unable to fly at sea - possibly due to a waterproofing problem.
Click here to read of another FAME study - on Cory's Shearwater Calonectris diomedea.
Reference:
Boué, A., Micol, T., Dalloyau, S., Weimerskirch, H., Delord, K., Louzao, M., Arcos, J.M., García, D. & Rodríguez, B. 2012.  Use of several methods to identify marine IBAs for critically endangered Balearic Shearwater.  In: Fifth International Albatross & Petrel Conference 12 - 17 August, 2012 Wellington, New Zealand Conference Programme and Abstracts.  pp. 119.
John Cooper, ACAP Information Officer, 27 August 2012