A contingent of six marine ornithologists (John Cooper, Robert Crawford, Bruce Dyer, Genevieve Jones, Azwianewi Makhado and Ross Wanless) from South Africa attended the Fifth International Albatross and Petrel Conference held in Wellington, New Zealand earlier this month.  They presented a total of eight oral and poster papers that concentrated on research conducted on albatrosses and petrels at the Prince Edward Islands in the southern Indian Ocean and at Gough Island in the South Atlantic.
Government, academia and an NGO were all represented with the South African participants coming from Oceans and Coasts Branch, Department of Environmental Affairs, the DST/NRF Centre of Excellence for Invasion Biology, Stellenbosch University, the Percy FitzPatrick Institute of African Ornithology at the University of Cape Town, and the Seabird Division of BirdLife South Africa.
The following presentations were made.  Their abstracts can be read in the conference proceedings booklet.
J. Cooper & B. Baker:  The conservation status of the World's shearwaters
R.J.M. Crawford, A.B. Makhado, B.M. Dyer, L. Upfold & P.G. Ryan:  Trends in numbers breeding and breeding success of southern giant petrels Macronectes giganteus at Marion Island
R.J.M. Crawford, A.B. Makhado, B.M. Dyer, L. Upfold & P.G. Ryan:  Divergent trends of Phoebetria albatrosses at the Prince Edward Islands
B.M. Dyer, R.J.M. Crawford, A.B. Makhado, L. Upfold & P.G. Ryan:  Mortality and collisions of burrowing petrels at Marion Island caused by lightning and light pollution
M.G.W. Jones & P.G. Ryan:  To breed, or not to breed: is that the question?  Effects of pre-laying phenology and condition on long-term reproductive success in Wandering Albatrosses
M.G.W Jones, B. Dilley, Q. Hagens, H. Louw, E. Mertz, P. Visser & P.G. Ryan:  The effects of parental condition, experience and past reproductive success on Wandering Albatross chick growth and survival: insights from a cross fostering experiment
A.B. Makhado, R.J.M. Crawford, B.M. Dyer, L. Upfold & P.G. Ryan:  The foraging behaviour and habitat use of Indian Yellow-nosed Albatrosses Thalassarche carteri at the Prince Edward Islands
R.M. Wanless:  Incidental extinction: invasive alien mice create asymmetric cost: benefit relationship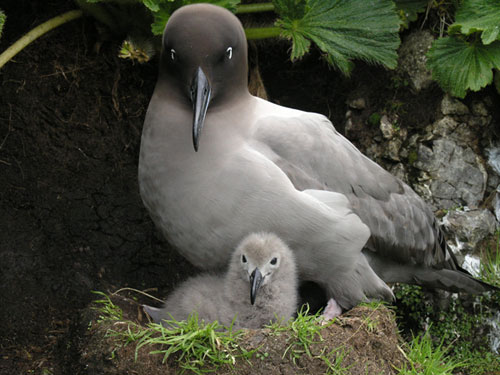 Light-mantled Sooty Albatrosses breed at the Prince Edward Islands
Photograph by Rowan Treblico
Reference:
Fifth International Albatross & Petrel Conference 12 - 17 August, 2012 Wellington, New Zealand Conference Programme and Abstracts.  pp. 119.
John Cooper, ACAP Information Officer, 28 August 2012