Not surprisingly, New Zealand marine ornithologists were well represented at the recent Fifth International Albatross and Petrel Conference held in Wellington, the nation's capital city, last month.
To bring those who did not attend the conference up-to-date here follows by authors and titles a list of the oral (O) and poster (P) presentations on ACAP-listed albatrosses and petrels within New Zealand and its waters.  To learn more read the abstracts in the conference booklet available on-line.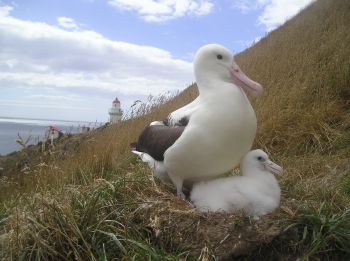 A Northern Royal Albatross guards its downy chick at Taiaroa Head
Photograph by Lyndon Perriman
Edward Abraham & Finlay Thompson:  Albatross and petrel bycatch in New Zealand commercial fisheries.  O23.
Elizabeth Bell, Joanna Sim, Paul Scofield & Chris Francis:  Rising, falling or stable?  Population modelling of Black Petrel Procellaria parkinsoni on Great Barrier Island (Aotea), New Zealand.  O50.
Rachel Buxton, David Towns, Graeme Taylor, Henrik Moller & Chris Jones:  On the road to recovery: procellariiform population response after predator removal.  O40.
Lorna Deppe, Paul Scofield & James Briskie:  Around the year with albatross: at-sea distribution, habitat use and activity patterns of three New Zealand albatross species.  O16.
Graeme Elliott & Kath Walker:  Recent declines in Gibson's and Antipodean wandering albatrosses.  O46.
Grant Humphries:  Examining the potential to predict El Niño Southern Oscillation using seabirds.  O42.
David Middleton, Richard Wells, John Cleal, Edward Abraham & Johanna Pierre:  Managing seabird incidental mortality in New Zealand's deepwater trawl fleet: creating individual vessel solutions in a fleet-wide approach, informed by experimental evidence.  O26.
Janice Molloy, Rebecca Bird, Alan Riwaka & Richard Wells: Working with fishers to make a difference for seabirds: Southern Seabird Solutions Trust.  P20.
Johanna Pierre, Edward Abraham, Yvan Richard, John Cleal & David Middleton:  Reducing seabird bycatch through improving management of fisheries waste.  O24.
Yvan Richard, Edward Abraham & Dominique Filippi: Assessment of the risk of commercial fishing to seabirds in the New Zealand EEZ.  O26.
Leigh Torres, David Thompson, Richard Phillips, Paul Sagar, Phil Sutton & Erica Sommer:  Grey Petrel non-breeding habitat use patterns: what's in the middle of no place?  O6.
Junichi Sugishita, Philip Seddon, Leigh Torres & Lyndon Perriman: Royal parenting: foraging strategies and risks in Northern Royal Albatross.  P22.
Lisa Sztukowski, David Thompson, Henri Weimerskirch, Leigh Torres, Paul Sagar & Stephen Votier:  Testing for individual foraging specialisation in Campbell Albatross: implications for ecology and conservation.  O2.
Kath Walker & Graeme Elliott:  The case for species status for Gibson's and Antipodean wandering albatrosses.  P10.
Susan Waugh, John Arnould & Karyne Rogers:  Westland Petrel foraging during breeding season.  O18.
John Cooper, ACAP Information Officer, 8 September 2012