Denise Hardesty (CSIRO Ecosystem Services) and colleagues, writing in the journal Conservation Genetics Resources, have studied the genetic variability of the Flesh-footed Shearwater Puffinus carneipes.
The paper's abstract follows:
"Within Australia and New Zealand the Flesh-footed shearwater is afforded a high level of protection due to reduced population numbers, in spite of the fact that globally the species occurs in high numbers.  With an ultimate aim of assessing population and regional scale differentiation for this species, we isolated Puffinus carneipes microsatellites from a genomic DNA library.  Of more than 25 clones which were originally identified, eleven polymorphic loci were developed from sequences and were used to assess genetic diversity.  Genetic diversity was moderate across 84 sampled birds (mean = 6.82; range = 3-13 alleles per locus) and three geographically disparate populations sampled exhibited similar levels of genetic diversity."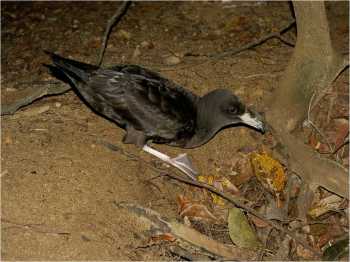 Flesh-footed Shearwater.  Photograph by Barry Baker
Reference:
Hardesty, B.D., Metcalfe, S.S. & Wilcox, C. 2012.  Genetic variability and population diversity as revealed by microsatellites for Flesh-footed Shearwaters (Puffinus carnepeis) in the southern hemisphere.  Conservation Genetics Resources DOI: 10.1007/s12686-012-9721-7.
John Cooper, ACAP Information Officer, 21 September 2012