Bruce Pearson, painter and print maker, is about to publish a book detailing his life-long fascination for the sea and seabirds.  Having journeyed a number of times across the Southern Ocean, his aim is to paint a portrait that brings the open sea vividly to life in the mind's eye and imagination.
"As an artist fascinated by wildlife and the natural world I work as often as the opportunities arise out in the wild where the rhythm and restlessness of wildlife and elemental landscapes - and sometimes people - interact creating powerful images and dramatic themes."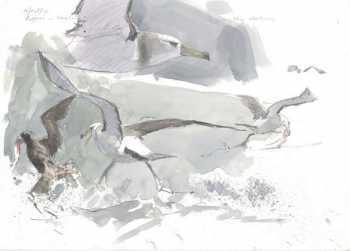 A Shy Albatross chases a White-chinned Petrel by Bruce Pearson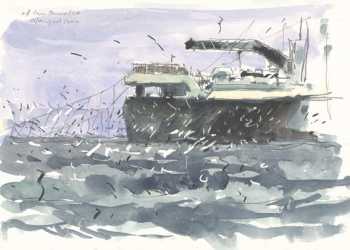 A trawler trails a bird-scaring line by Bruce Pearson
Bruce's new 196-page book "Troubled Waters. Trailing the Albatross, an Artist's Journey", is due to published next month by Langford Press.  Chapters are titled Launching an idea; First encounters, Heading south; Birds Island summers; Hooked and tangled; and Drawn south again.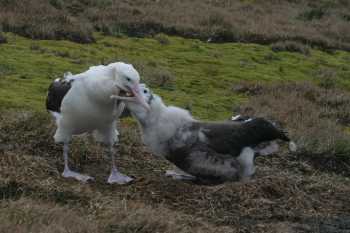 A Wandering Albatross feeds its large chick on Marion Island
Photograph by Genevieve Jones
The book launch is to be followed by an exhibition in support of BirdLife International's Save the Albatross Campaign from 26 November to 1 December at the Artspace Gallery, Maddox Street, London UK.
It is intended to carry a review of Bruce Pearson's book once it is published.
John Cooper, ACAP Information Officer, 29 September 2012