Yukiko Inoue and colleagues (National Research Institute of Far Seas Fisheries, Shimizu, Shizuoka, Japan) have published on 502 seabirds reported killed by Japanese longliners in the Atlantic Ocean in International Commission for the Conservation of Atlantic Tunas (ICCAT) waters over a total of 13 years (1997-2009).
They report catches of Black-browed Albatrosses Thalassarche melanophris and White-chinned Petrels Procellaria aequinoctialis off Namibia, as well of these and other ACAP-listed albatross and petrel species elsewhere in the South Atlantic.
The paper's abstract follows:
"The interaction between the pelagic longline fishery and seabirds is considered to have negative impacts on their population levels.  Investigating the area and season of high probability of the seabird interactions should provide important information to consider effective by-catch mitigation measures.  In our study, distributions of seabird by-catch are presented using data collected by Japanese observers on a voluntary basis in 1997-2009 in the ICCAT area.  Higher CPUEs of albatrosses, giant petrels and petrels are mainly observed in the area south of 30°South in April to September, where strict mitigation measures should be introduced.  Higher CPUEs of a few petrels and albatrosses were also obtained at the area off Namibia in October to December.  Almost no catches of albatrosses and giant petrels were observed in the area north of 30°S.  Although there could be some exceptions, such as in Namibian waters, seabird interactions with Japanese longliners is considered to have minor impacts on the seabird population level there.  Our results are thought to be worth discussing the area introducing bycatch mitigation measure."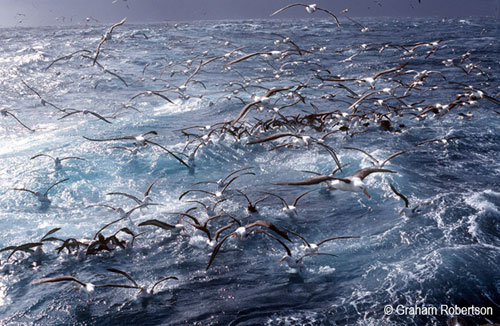 Black-browed Albatrosses cluster behind a fishing vessel.  Photograph by Graham Robertson
Reference:
Inoue, Y., Yokawa, K., Minami, H., Ochi, D., Sato, N. & Katsumata, N. 2012.  Distribution of seabird by-catch using data collected by Japanese observers in 1997-2009 in the ICCAT Area.  Collective Volume of Scientific Papers ICCAT 68(5): 1738-1753.
John Cooper, ACAP Information Officer, 6 October 2012.