Gough Island in the South Atlantic Ocean is the most northerly breeding locality of the Southern Giant Petrel Macronectes giganteus.  During the annual relief of the South African weather station in September this year on this United Kingdom-owned nature reserve and World Heritage Site (part of the Overseas Territory of St Helena, Ascension and Tristan da Cunha) an island-wide survey of giant petrel breeding colonies was made.
Unlike the island's threatened albatross populations, all thought to be declining in size, Gough's giant petrels seem to have had a stable population in recent years, befitting their Least Concern status.
Southern Giant Petrels were found breeding at three widely-separated localities.  Below Low Hump on the island's west coast 166 nests containing eggs were marked out in early September as part of the third year of a demographic study of a colour-banded population (click here).  In Giant Petrel Valley (so far an unofficial name) near Triple Peak in the north-western part of the island three colonies a little distance apart contained a total of c. 85 incubating nests on 15 September.  A site in the vicinity of Spire Crag where breeding had previously been reported in some years was found not to support breeding birds on the same date.
Lastly, a visit to Long Beach on the island's east coast at the end of September, accessible only from the sea by RIB or from the air by helicopter, revealed one incubating bird within a Spartina arundinacea tussock on the 28th.  On infrequent visits in the past one to three occupied nests have been found at this locality.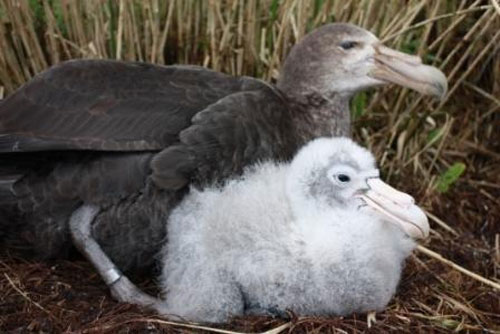 A banded Southern Giant Petrel guards its downy chick on Gough Island
Photograph by John Cooper
The island total of 252* incubating pairs represents the first complete census of Southern Giant Petrels on Gough conducted in any one year.
*A single incubating bird was found on Richmond Hill on 13 October, bring the count to 253 for 2012. This is a newly-discovered breeding locality.
Selected References:
Cooper, J. & Parker, G.C. 2011.  Observations of sexual dimorphism among the Southern Giant Petrels Macronectes giganteus of Gough Island.  Sea Swallow 60: 84-90.
Cuthbert, R.J. & Sommer, E.S. 2004.  Population size and trends of four globally threatened seabirds at Gough Island, South Atlantic Ocean.  Marine Ornithology 32: 97-103.
Cuthbert, R.[J.] & Sommer, E.[S.] 2004.  Gough Island Bird Monitoring Manual.  RSPB Research Report No. 5.  52 pp.
Wolfaardt, A.C., Glass, J. & Glass, T. 2009.  Tristan da Cunha Implementation Plan for the Agreement on the Conservation of Albatrosses and Petrels (ACAP): Review of Current Work and a Prioritised Work Programme for the Future. Edinburgh, Tristan da Cunha: Tristan da Cunha Government.
With thanks to Chris Bell, Karen Bourgeois, Nico de Bruyn, Sylvain Dromzée, Mara Nydegger, Aleks Terauds and Paul Visser for count information and help in the field.
Research on Southern Giant Petrels on Gough has been funded by the UK's Overseas Territories Environment Programme via the Royal Society for the Protection of Birds and by a Captain Simpson Fellowship of the Royal Naval Birdwatching Society awarded to John Cooper in 2010.  Activities ashore are conducted with the approval of the Tristan Conservation Department and are supported logistically by the South African Department of Environmental Affairs.
John Cooper, ACAP Information Officer, 11 October 2012, updated 20 October 2012