The Seventh Meeting of ACAP's Advisory Committee (AC7) will be held from Monday 6 May to Friday 10 May 2013, at the Mercure Hotel, La Rochelle, France.
La Rochelle is a sea and fishing port on the Bay of Biscay in the Atlantic Ocean.  The city (population 76 000 in 2008) has maintained its past architecture, making it one of the most picturesque and historically-rich cities on the French Atlantic coast.
Meetings of the Population and Conservation Status Working Group and the Seabird Bycatch Working Group will precede AC7.  These meetings will also be held in the Mercure Hotel, from Monday 29 April to Friday 3 May 2013.  The exact dates of individual Working Group meetings will be advised in Meeting Circular No. 2.
A Heads of Delegation meeting will be convened on Sunday 5 May 2013 in the evening.  The time and venue for this meeting will be advised closer to the meeting date.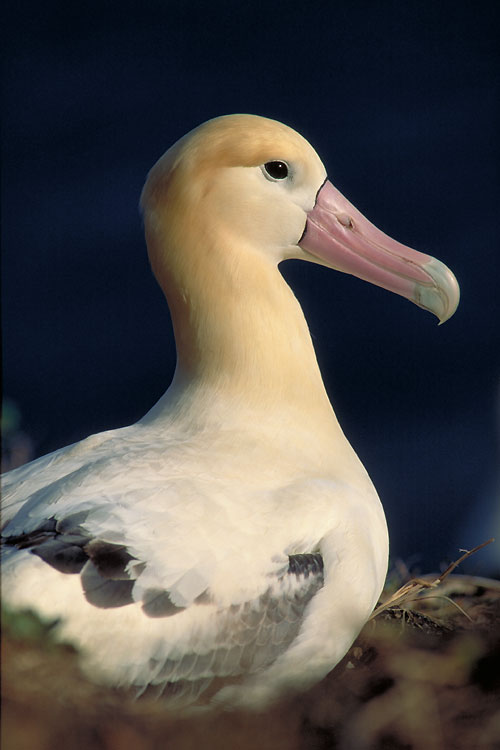 Short-tailed Albatross Phoebastria albatrus.  Photograph by Hiroshi Hasegawa
Meeting documents requiring translation are to be submitted to the Secretariat no later than 6 March 2013 in order that they may be distributed in the three official languages 30 days in advance of the meeting.  It would assist the operation of the meeting if papers were submitted as early as possible in advance of this date.  All AC7 meeting documents must be submitted by 5 April 2013.  Meeting documents for Working Group meetings must be submitted by 29 March 2013.  Meeting documents will not be accepted after these dates.  It would be appreciated if participants could advise the Secretariat of any papers that they intend submitting to the meeting as soon as possible.
International bodies wishing to participate in the Advisory Committee meeting must submit a written application to the Secretariat by 4 February 2013.  Applications from other bodies wishing to attend this meeting must submit a written application by 6 March 2013.
Information on registration and other meeting arrangements will be provided in the second circular.
Warren Papworth, Executive Secretary, ACAP Secretariat and Marco Favero, Chair ACAP Advisory Committee, 1 November 2012