There have been five International Albatross and Petrel Conferences held so far.  The series started in Hobart, Australia in 1995, moved to Honolulu, Hawaii, USA in 2000, followed at four-year intervals by conferences held in Montevideo, Uruguay (2004), Cape Town, South Africa (2008) and most recently during August this year in Wellington, New Zealand.  So where to next?
At the Wellington Conference I chatted with Jacob González-Solís of the Departament de Biologia Animal, Universitat de Barcelona, suggesting that now Spain had successfully nominated its endemic and Critically Endangered Balearic Shearwater Puffinus mauretanicus to the Agreement earlier this year (click here) perhaps it was time for the next IAPC to be held in a Mediterranean country - such as Spain.  Jacob agreed to go home to Barcelona and think about my idea.
I am now very pleased to inform the procellariiform community that IAPC6 will be held in Barcelona, Spain or in its vicinity on the Mediterranean coast in September 2016.  The exact dates and venue will be announced at a later date.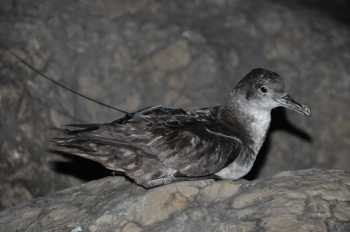 Satellite-tagged Baleariac Shearwater.  Photograph by Henri Weimerskirch
September will not be during the Balearic Shearwater's breeding season, but Jacob says a trip to sea will be arranged when seeing this and the others shearwaters of the Mediterranean is possible.  He writes:
"Concerning the Balearic Shearwater, September is definitely out of the breeding season and not the best month to sight it, but not impossible. The later the better because some start to come back from the Atlantic.  There are also some chances to see Mediterranean Shearwaters P. yelkouan and it would be quite likely to see Cory's [=Scopoli's] Calonectris diomedea Shearwaters."  Jaco adds "September is usually a fairly good time for bathing" in the Med.
So, if your diary or calendar extends as far as 2016 mark it now!
With thanks to Jacob González-Solís for information.
John Cooper, ACAP Information Officer, 4 November 2012