The 31st Meeting of the Commission for the Conservation of Antarctic Marine Living Resources (CCAMLR) was unable to reach the necessary consensus among its 25 members last week on declaring Marine Protected Areas (MPAs) in the Southern Ocean.  The annual meeting took place in Hobart, Australia, with the Albatross and Petrel Agreement beiong represented by its Executive Secretary, Warren Papworth.
Although only two ACAP-listed species (Light-mantled Sooty Albatross Phoebetria palpebrata and Southern Giant Petrel Macronectes giganteus) breed in Antarctica, the waters of the Southern Ocean are important foraging grounds for those ACAP-listed species that breed on sub-Antarctic islands.
This lack of agreement was despite progress achieved at CCAMLR's Scientific Committee, held immediately before the Commission met.  At the Scientific Committee meeting New Zealand and USA had reached agreement on their separate proposals for an MPA in the Ross Sea.  "A US-New Zealand plan foresaw a 1.6 million square kilometer protected area in the Ross Sea, while nations led by the EU and Australia had proposed a series of reserves encompassing 1.9 million square kilometers -- an area bigger than Alaska." (click here).
The combined New Zealand/USA proposal by New Zealand and the United States was for a 2.27 million km² reserve which would have included a 1.6 million km² designated no-take zone.
With reservations coming from fishing nations within CCAMLR, the Commission could not obtain the support of all its members for a Ross Sea MPA, or for the proposals for MPAs in East Antarctica and around the Antarctic Peninsula.  The Commission has previously established a large MPA around the South Orkney Islands.
CCAMLR will now hold a rare intersessional meeting next year of both the Scientific Committee and Commission (in Germany in July) in an effort to achieve consensus.  CCAMLR was reported as saying establishing marine reserves "is a complex process involving a large amount of scientific research as well as international diplomacy" and so it was decided "that further consideration of the proposals is needed."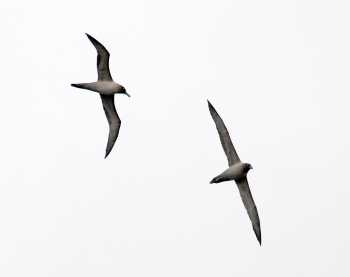 Light-mantled Sooty Albatrosses have recently been proven to breed in the Antarctic Peninsula region
Photograph by John Chardine
Read more on CCAMLR's efforts to declare MPAs in the Southern Ocean at:
http://wwf.panda.org/wwf_news/?uNewsID=206600&utm_source=feedburner&utm_medium=feed&utm_campaign=Feed%3A+wwf%2Fnews+%28WWF+-+News%29
http://www.nzherald.co.nz/nz/news/article.cfm?c_id=1&objectid=10844811
and
http://www.nature.com/news/disappointment-as-antarctic-protection-bid-fails-1.11723
John Cooper, ACAP Information Officer, 6 November 2012