This month six men will start to walk the last 97 miles to the South Pole that Ernest Shackleton failed to cover on his epic journey in 1909.  The team is to include three wounded soldiers from Captain Oates' Regiment, now the Royal Dragoon Guards, who will be undertaking the walk with physical disabilities (click here).  Lawrence "Titus" Oates reached the South Pole with Captain Scott but died on the return journey in 1912, as did all his companions.
The 'In the Footsteps of the Legends' expedition will raise money for a conservation project of international importance taking place on a sub-Antarctic island well known and loved by Shackleton (click here).
The Habitat Restoration Project launched by the South Georgia Heritage Trust is the largest rodent eradication programme ever undertaken.  Once South Georgia (Islas Georgias del Sur)* is rat-free "the number of seabirds breeding there should increase by over 100 million - a figure of global significance at a time when many seabird species are in decline."
Click here to read the latest e-newsletter of the Habitat Restoration Project and how Phase Two will get underway early next year to help save ACAP-listed White-chinned Petrels Procellaria aequinoctialis and many other species of burrowing petrels from the depredations of alien Norwegian Rats Rattus norvegicus.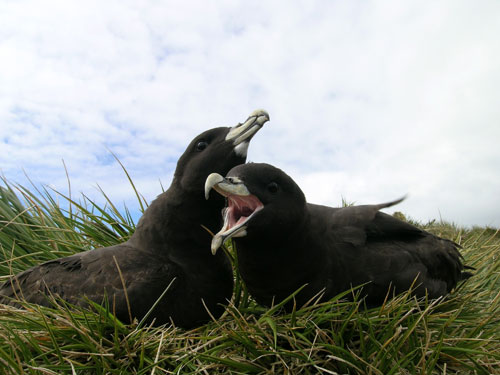 White-chinned Petrels call outside their burrow.  Photograph by Ben Phalan
Go to the Million Dollar Mouse website to read about another fund-raising campaign: this time to eradicate the House Mice Mus musculus of New Zealand's Antipodes Island.  Approaching two-thirds of the target!
John Cooper, ACAP Information Officer, 10 November 2012
*A dispute exists between the Governments of Argentina and the United Kingdom of Great Britain and Northern Ireland concerning sovereignty over the Falkland Islands (Islas Malvinas), South Georgia and the South Sandwich Islands (Islas Georgias del Sur y Islas Sandwich del Sur) and the surrounding maritime areas.