Aliens: The Invasive Species Bulletin is the newsletter of the IUCN/SSC Invasive Species Specialist Group (ISSG).  The latest issue (No. 32, 2012), available on-line, carries two articles that detail efforts made to eradicate rodents on islands that support breeding shearwaters in the Mediterranean Sea.
Joan Mayol (Species Conservation Service, Regional Government of the Balearic Islands) and colleagues describe aerial broadcasting of Brodifacoum poison bait by helicopter in early 2011 on the island of Sa Dragonera (362 ha) in the Spanish Balearic Islands, home of the ACAP-listed and Critically Endangered Balearic Shearwater Puffinus mauretanicus.  The bait drop was deemed successful in eradicating Black Rats Rattus rattus and House Mice Mus musculus but a few European Rabbits Oryctolagus cuniculus remained after 15 months.  "Last spring (2011) Balearic shearwaters success fully fledged young birds near the main pier of sa Dragonera.  During previous years with rats, all eggs were depredated very early during the breeding season."
Farther to the east in the Mediterranean Black Rats had been targeting closely-allied Yelkouan Shearwaters P. yelkouan on the Sardinian island of Molara (340 ha).  Paolo Sposimo (Marine Protected Area of Tavolara Punta Coda Cavallo, Olbia, Sardinia, Italy) and colleagues report their own aerial bait drop using brodifacoum as the poison on Molara in October 2008: "Yelkouan shearwater reproductive success greatly increased after rat eradication on Molara, from total failure at the previous rat eradication reaching values of 0.6-0.8 fledglings per pair in 2009 and 2010".  However, rats were again found to be present on the island in July 2010.  A genetic study suggests that the source of the rat recolonization was the Sardinian mainland population, and not due to failure of the aerial drop to kill all the rats then present.  It is unknown how the rats recolonized the island but swimming from Sardinia 1600 m away (if so, an unusually long distance) or a deliberate introduction are suggested as two possibilities.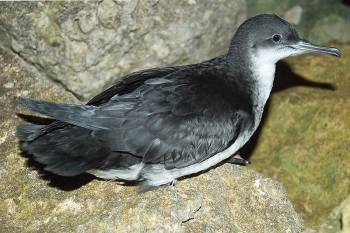 Yelkouan Shearwater.  Photograph by Matthew Borg Cardona
References:
Mayol, J. Mayol, M., Domenech, O., Oliver, J., McMinn, M. & Rodríguez, A. 2012.  Aerial broadcast of rodenticide on the island of Sa Dragonera (Balearic Islands, Spain).  A promising rodent eradication experience on a Mediterranean island.  Aliens Bulletin 32: 29-32.
Sposimo, P., Spano, G., Navone, A., Fratini, S., Ragionieri, L., Putzu, M., Capizzi, D. & Baccetti, N. 2012.  Rodent eradication on Molara Island and surrounding islets (NE Sardinia): from success to the riddle of reinvasion.  Aliens Bulletin 32: 30-38.
John Cooper, ACAP Information Officer, 12 October 2012