The Macquarie Island Pest Eradication Project (MIPEP) continues on its successful way with no European Rabbits Oryctolagus cuniculus seen for nearly a year now - save for one of the dogs finding a "very old mummified" rabbit last month:
"October was a further month where no rabbits or signs of rabbits were found.  A standard four week roster again this month with 1475 hours hunted and 3625 km covered on foot.   It is coming up to a year since the last positive rabbit sign was found and since that time (25-11-2011) last year's team along with the current team have a combined hunting effort of 15000 hours along with 750 hours spotlighting which equates to 34500 km of searching coverage.  And although these are impressive figures and a lot of hard slog has been put in across the island, it is pleasing to see the search effort and motivation of the current team remains high." (click here).
The last rabbit (of only 13 post-baiting) was killed in November 2011, and is thought that there are now fewer than five left.  Also good news is that no rats or mice have been seen since the April-June 2011 bait drops, now well over a year ago.  A rodent-sniffing dog (or two) will join the eradication team on the island in 2013 (click here).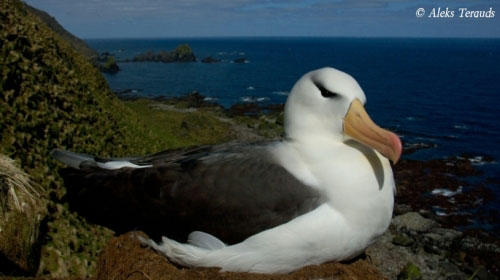 Black-browed Albatross on its nest.  Photograph by Aleks Terauds
Activities on "Macca" on ACAP-listed species covered in recent editions of the well-illustrated weekly on-line newsletter This Week on Macquarie Island have included island-wide censuses of Northern Macronectes halli and Southern M. giganteus Giant Petrels, banding the Wandering Albatross chicks Diomedea exulans (six this season) and commencing annual monitoring of Black-browed Thalassarche melanophris and Grey-headed T. chrysostoma Albatrosses.  Meanwhile by October the Grey Petrel Procellaria cinerea chicks had "all taken to the skies having fledged their winter burrows".  Counts are also being undertaken of breeding Light-mantled Sooty Albatrosses Phoebetria palpebrata.
Reference:
Wren, L. 2012.  Macquarie Island on the road to recovery following eradication.  Newsletter of the Australian Wildlife Management Society 26(3): 4-5.
John Cooper, ACAP Information Officer, 13 November 2012, updated 17 November 2012