His Royal Highness, the Prince of Wales and the Duchess of Cornwall have been visiting countries around the Pacific Ocean this month as part of the celebrations of the Diamond Jubilee of Queen Elizabeth II.  While in Hobart, Tasmania last week Prince Charles was hosted by the Australian Antarctic Division (AAD) (click here).
The Prince heard about the management of sustainable fisheries due to the efforts and regulations of the Commission for the Conservation of Antarctic Marine Living Resources (CCAMLR) - which has its headquarters in Hobart.  "During his conversation ... HRH showed a strong and informed interest in the Southern Ocean reflecting on his on-going active engagement in global initiatives to reduce seabird mortality in world fisheries" (click here).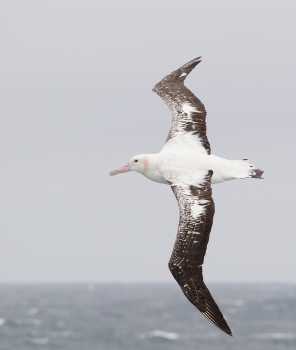 A Wandering Albatross flies the Southern Ocean
Photograph by John Chardine
Prince Charles is well known for his passionate interest in albatrosses, which has extended to holding audiences and giving speeches in support of their conservation (click here for just one example).  The Prince had sent a letter of support to ACAP at the time of the First Session of its Meeting of Parties held in Hobart in November 2006.  In the letter "His Royal Highness emphasised his support for ACAP as a demonstration of the growing international commitment to protect these unique seabirds and a recognition that this problem is beyond the capacity of any one nation to solve" (click here).
CCAMLR has been in the news of late with its continuing efforts to proclaim large Marine Protected Areas (MPAs) in the Southern Ocean, now postponed until July next year (click here).
With thanks to Mike Double for information.
John Cooper, ACAP Information Officer, 14 November 2012