As an adjunct to this year's meetings of CCAMLR in Hobart, Australia, the Southern Seabird Solutions Trust (SSST) in collaboration with the Coalition of Legal Toothfish Operators Inc (COLTO) and other bodies launched its latest effort to help reduce the mortality of seabirds in both longline and trawl fisheries.
The 12-minute Seabird Smart Fishing - A Collaborative Approach video takes the viewer by way of interviews and at-sea footage through innovative techniques developed to reduce seabird bycatch in three Southern Hemisphere fisheries: the Antarctic auto-line fishery, the New Zealand deep-water trawl fleet and the Chilean industrial Patagonian Toothfish fishery.  Examples include integrated line weighting developed and tested in Australasian waters that sinks the longline and its baited hooks quickly out of the reach of ship-following albatrosses and petrels, and use of a basket technique ("cachalotera") in Chile both to reduce seabird mortality during line-setting and stop Sperm and Killer Whales taking hooked fish as the longline is hauled.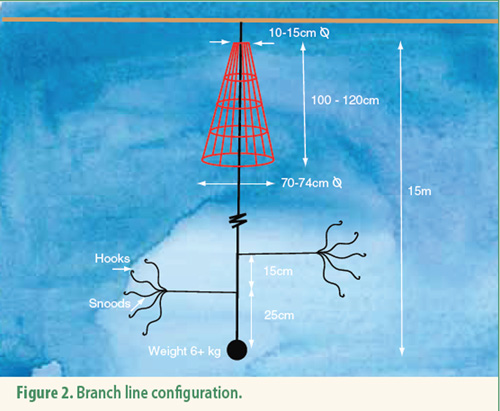 The Chilean Cachalotera system
Click here to read more about the three mitigation techniques highlighted in the video.
The video demonstrates that collaboration between the fishing industry, scientists and management agencies has resulted in the development and implementation of effective solutions to manage seabird interactions in three separate fisheries.  The Albatross and Petrel Agreement, along with a number of other governmental and non-governmental sponsors, including COLTO and CCAMLR, helped fund the production of the video, and ACAP's Executive Secretary Warren Papworth was present at its launch in Hobart earlier this month
With thanks to Janice Molloy, Convenor, Southern Seabird Solutions Trust for information
John Cooper, ACAP Information Officer, 15 November 2012