The Southern Seabird Solutions Trust (SSST) announced yesterday that His Royal Highness the Prince of Wales has agreed to become its patron. The announcement coincides with Prince Charles' visit to New Zealand along with the Duchess of Cornwall as part of the Diamond Jubilee celebrations of Queen Elizabeth II.  The New Zealand-based SSST believes that royal patronage will greatly help its efforts to reduce the numbers of seabirds killed or injured by the fishing industry (click here).
"This is great news for the Southern Seabird Solutions Trust," said Trust Chair Bill Mansfield.  "Prince Charles' involvement in environmental issues, including seabird conservation, is well known throughout the world.  We are very honoured to have his support for the Trust's work [and] believe that having Prince Charles as our patron will significantly increase awareness in New Zealand of the importance of seabirds and the risks they face."  Click here for recent news of the Prince's interest in and support of albatross conservation.
The Trust is an alliance of the New Zealand seafood industry, the New Zealand Government, WWF-New Zealand and Te Ohu Kaimoana (the Maori Fisheries Trust) and was formed in 2002 to reduce fishing-related harm to seabirds.  It works with fishers throughout the Southern Hemisphere to provide information and education about seabirds as well as best methods to keep seabirds away from fishing vessels.  Click here to access its recently released Seabird Smart Fishing - A Collaborative Approach video.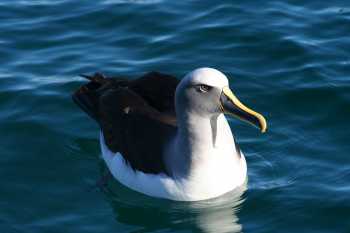 Buller's Albatross: endemic to New Zealand
Photograph by Chris Golding
In the past decade the SSST has carried out a number of projects in Australia, New Zealand, South Africa and in South America.  These include training workshops for New Zealand fishers, development of information resources, industry awards for good practice, and support for the development and testing of new fishing technologies with the potential significantly to minimise the risk to seabirds.   The Trust has also organised skipper exchanges between Southern Hemisphere countries to encourage experts to share tips, techniques and insights.
Representatives from the Trust, including winners of the Trust's Seabird Smart Awards, are meeting the Prince of Wales at a reception at Government House in Wellington today.  The Seabird Smart Awards were founded in 2005 to recognise and encourage those who reduce risks to seabirds.
With thanks to Janice Molloy, Convenor, Southern Seabird Solutions Trust for information.
John Cooper, ACAP Information Officer, 16 November 2012