The programme for next month's Fifth International Albatross and Petrel Conference is now available on-line (click here).  The conference will be held in Wellington, New Zealand over 12-17 August.
At total of 56 oral presentations will be given over four days, with the mid-week Wednesday reserved for outings.  Subjects of sessions to be held include Distribution and Important Bird Areas (IBAs), Fisheries, Restoration and Translocation, Taxonomy, Populations, and Conservation.  Keynote papers will be given by Jacob Gonzales-Solis, Colin Miskelly and Geoff Tuck.
Two poster sessions are to be held, along with a "BirdLife Tracking Event" and daily discussions on several of the session themes.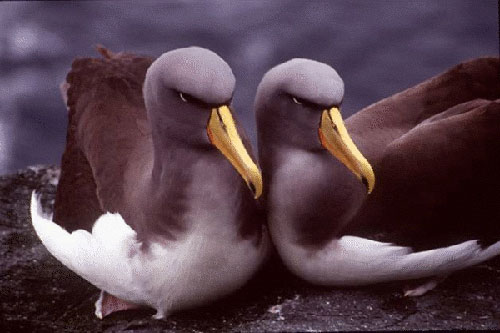 Chatham Albatrosses: a New Zealand endemic species
Photograph by Graham Robertson
Marco Favero, ACAP Advisory Committee Chair, will close the oral presentations in the Conservation Session on Friday afternoon with a paper entitled " The Agreement on the Conservation of Albatrosses and Petrels: International Efforts to Improve the Conservation Status of Threatened Species".  His paper will be co-authored by several members of the ACAP Secretariat and of the Advisory Committee.  The ACAP Secretariat will also be presenting a poster on its web-based efforts to increase awareness among the general public entitled "Flying into Cyberspace: using  Electronic Media to help Conserve Albatrosses and Petrels", co-authored by John Cooper (Information Officer) and Luke Finley (Web Administrator).
John Cooper, ACAP Information Officer, 3 August 2012