Amelia Geary and colleagues have published on breeding biology of the Sooty Shearwater Puffinus griseus in New Zealand as a "just accepted" paper in the journal Emu Austral Ecology.
The paper's abstract follows:
"The Sooty Shearwater (Ardenna grisea) is one of New Zealand's better studied petrels. Although one of New Zealand's most abundant seabirds, smaller Sooty Shearwater populations may be less resilient to stochasticity in the long term.  Aspects of the breeding biology and burrow dynamics were investigated on Long Island in the Marlborough Sounds, New Zealand from November 2008 to May 2009.  Average burrow length was 83.6cm ± 4.3cm.  Burrows were generally simple and non-branched.  The incubation period of Sooty Shearwaters was 54.3 days ± 1 day and the chick rearing period was 104.5 ± 2 days.  Breeding success was 40.1%, within the range expected from published studies of other Sooty Shearwater populations and congeneric species.  This study paves the way for further investigation into the viability of a small island population and its persistence into the future."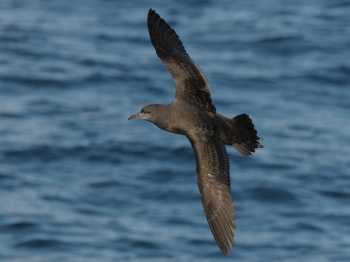 Sooty Shearwater.  Photograph by John Graham
Reference:
Geary, A., Corin, S., Nelson, N. 2012.  Biological parameters of the Sooty Shearwater (Ardenna grisea) on Long Island, New Zealand.  Emu Austral Ecology.
John Cooper, ACAP Information Officer, 15 December 2012