On 30 April and 1 May this year, Josh Adams and Valentina Colodro of Oikonos Ecosystem Knowledge, together with Chilean park rangers, attached nine solar-powered satellite transmitters to breeding Pink-footed Shearwaters Puffinus creatopus on Isla Mocha, Chile to follow their post-breeding northern migration along the entire coast of the Americas.
Click here to follow the at-sea movements of these nine birds, all of which have been transmitting for a month as they move north, with the northernmost birds already having reached Mexican waters.
Click here for information on previous tracking efforts on this Chilean endemic and potential candidate for listing within ACAP.
The study, led by Oikonos Ecosystem Knowledge, is funded by the National Fish and Wildlife Federation, American Bird Conservancy and the Canadian Wildlife Service with logistical and in-kind support from the Chilean Corporación Nacional Forestal (CONAF).
With thanks to Peter Hodum for information.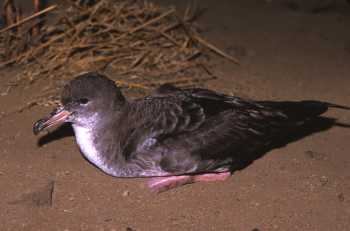 John Cooper, ACAP Information Officer, 31 May 2011