By 25 May all the nine remaining translocated Short-tailed Albatross chicks from the 2011 cohort of 15 had left the island, bringing the number known to have fledged successfully to 14.
The first chick had disappeared by 30 April, and is not thought to have fledged successfully.
[News from Kiyoaki Ozaki, Division of Avian Conservation (Bird Migration Research Center), Yamashina Institute for Ornithology, Japan, 28 May 2011]
*********
Over the period 12-18 May five of the 14 remaining Short-tailed Albatross chicks that were translocated 350 km by helicopter from Torishima to Mukojima Island on 5 February this year and hand-fed for three months have successfully fledged. One chick had disappeared prior to fledging so nine of the original 15 remain to fledge in the next few days.
PTTs (satellite trackers) have been attached to seven of the birds prior to fledging so that their movements at sea as juveniles can be followed. Already a bird has been spotted at sea away from the island. The young birds are expected to migrate to the Aleutian Islands and the Bering Sea in the North Pacific.
A further 15 chicks will be translocated to Mukojima in 2012, currently the last cohort expected, that will bring the total number of translocated chicks over five years to 70.
So far six from the 2008 cohort (of 10 chicks) and one from the 2009 cohort of 15 have been seen back at the translocation site this year, where they have engaged in interactions with each other and with chicks of the 2011 cohort.
Search on "Mukojima" to read earlier items posted to ACAP Latest News on this endeavour to create a new breeding colony of STALs on a non-volcanically active island.
You can also work backward from http://www.acap.aq/latest-news/no-fooling-about-on-1-april-return-rate-of-short-tailed-albatrosses-to-mukojima-from-the-2008-translocation-cohort-reaches-60.
The Short-tailed Albatross is classified as a National Special Natural Treasure in Japan.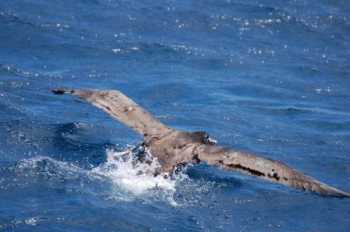 With thanks to Kiyoaki Ozaki, Yamashina Institute for Ornithology for information and to Chuck Pell for translating articles from Japanese newspapers.
John Cooper, ACAP Information Officer, 21 May 2011