It's all go on Mukojima in the Japanese Ogasawara islands.  Two more colour-banded Short-tailed Albatrosses Phoebastria albatrus from the 2008 cohort have now been reported visiting the translocation site where attempts are being made to create a new breeding colony on the non-volcanically active island.
Red Y07 (male) and Red Y10 (female) were seen ashore on the first of this month (April Fools' Day) where they were photographed engaging in a mutual display.  Previously seen Red Y01 was also present.  This brings the number of returned birds from the 2008 cohort translocated as chicks from Torishima to six out of 10 - or 60%.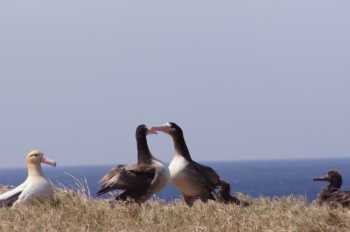 Y07 and Y10 get friendly on Mukojima, watched by two translocated chicks of the 2011 cohort on the right and by a plastic model adult on the left.  Photograph by Tomohiro Deguchi
So far one bird of the 2009 cohort of 15 translocated chicks has returned to Mukojima (click here).
Red Y10 was previously observed and identified from a video photograph that showed its colour band on  4 August 2010 near Seguam Pass in the eastern central Aleutian Islands by Rob Suryan and  a Japanese TV crew.  For another record of a Mukojima STAL seen at sea after fledging click here).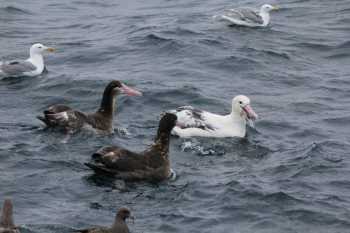 Red Y10 spotted at sea of the Aleutians (bird on the left)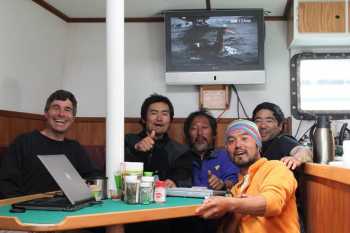 Rob Suryan and NHK TV crew celebrate with the confirming video picture on the screen above them.
Photographs by Rob Suyran (upper) and Tomoo Sono (lower)
To access a scientific paper in the journal Deep-Sea Research detailing at-sea sightings of STALs near the Aleutians click here.
With thanks to Tomohiro Deguchi and Rob Suryan for information.
John Cooper, ACAP Information Officer, 4 April 2011, updated 5 April 2011