In January this year the charter motor yacht Golden Fleece travelled to the little-visited South Sandwich Islands (Islas Sandwich del Sur)* in the maritime Antarctic to undertake seabird and marine mammal surveys (click here).
Landings by rubber inflatable boat were made on no less than 10 of the 11 islands in the group.  Although ACAP-listed Southern Macronectes giganteus and Northern M. halli Giant Petrels were seen ashore on most of them, breeding, restricted to Southerns, was recorded on only two of the islands visited.
Southern Giant Petrel
Present throughout the islands this species was very much a feature of penguin colonies where birds were observed scavenging and preying upon penguins both onshore and in coastal waters.
The large colony on Candlemas Island was counted on 17 January with 1682 occupied nests on the northern Breakbones Plateau.  A further 136 nests were found in the south-west of the island, to give a total of 1818 breeding pairs.  A total of 64 occupied nests was counted on 11 and 12 January on the ash plains at the northern end of Zavodovski Island, making an overall total of 1882 breeding pairs for the whole island group.
The most recent counts of breeding Southern Giant Petrels in the South Sandwich Islands (Islas Sandwich del Sur )* were of 1516 pairs on Candlemas and 25 pairs on Zavodovski in January 1997 (Convey et al. 1997, Patterson et al. 2008).  Breeding has not been recorded on any of the other islands in the group.  The 2011 total is higher than that of the 1996/1997 breeding season (1541 pairs), but should not be taken as necessarily reflecting a population change.
White-morph birds were noted at several sites, with a small percentage (3-5%) of breeding birds at Candlemas being of this morph.
Click here to access the ACAP Species Assessment for the Southern Giant Petrel.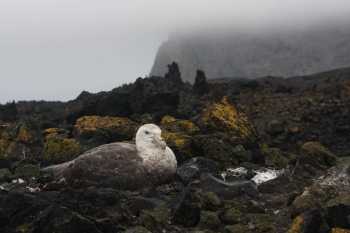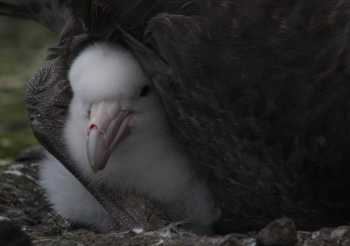 Northern Giant Petrel
Northern Giant Petrels were recorded inshore and in coastal waters of all the islands, frequently observed scavenging and preying upon penguins.  The largest number recorded was 25 birds at Irving Point on Visokoi Island.  No breeding was observed, nor has it previously.
References:
CONVEY, P., MORTON, A. & PONCET, J. 1999.  Survey of marine birds and mammals of the South Sandwich Islands.  Polar Record 35: 107-124.
PATTERSON, D.L., WOEHLER, E.J., CROXALL, J.P., COOPER, J., PONCET, S., PETER, H.-U., HUNTER, S. & FRASER, W.R. 2008.  Breeding distribution and population status of the Northern Giant Petrel Macronectes halli and Southern Giant Petrel M. giganteus. Marine Ornithology 36: 115-124.  Click here for the paper's separate appendices with historical count data.
With thanks to Andy Black for information, who undertook the counts with assistance from Richard White of Oceanites.
John Cooper, ACAP Information Officer, 26 March 2011
*A dispute exists between the Governments of Argentina and the United Kingdom of Great Britain and Northern Ireland concerning sovereignty over the Falkland Islands (Islas Malvinas), South Georgia and the South Sandwich Islands (Islas Georgias del Sur y Islas Sandwich del Sur) and the surrounding maritime areas.